It's Over

The season that is. What did you think? The sixth and final round of the Fairlie Yacht Club Autumn points series was sailed at Largs, as have been the previous 2 and the conditions were probably better than we could have hoped for in early November. Black clouds with 30kt gusts were shuffling through and inducing some fine broaches but otherwise the sun was out giving some enjoyable sailing for the 12 boats showing up on the start line.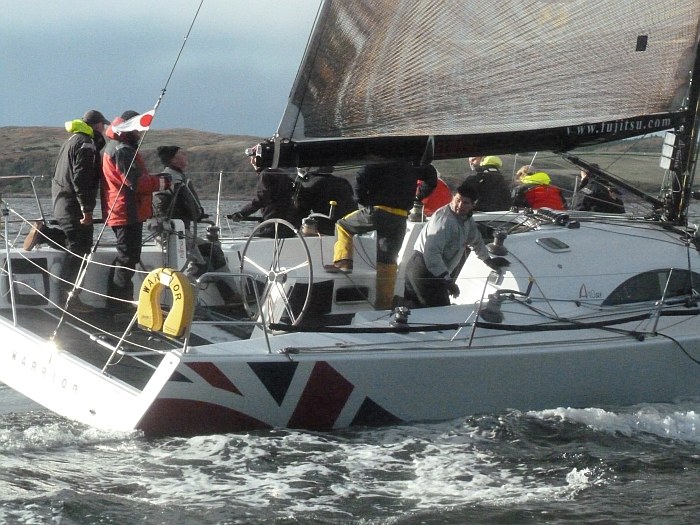 With 4 discards accumulated, Craig Anderson and his gang on Cool Bandit narrowly missed taking the Class 2 prize by just 2.5 points behind More Misjif in which Anderson & Tear had a dreadful first race. Leomaris with Fairlie's favourite veteran at the wheel pulled a 3rd and a fourth on this occasion to give them 3rd place overall.
Class One, for the last three weeks, has been match racing between Ross Fullarton's Archambault 40 , 'Warrior' and John Stamp's Jacob2. Warrior, which has been much more fully crewed (on this occasion with the significant advantage of a certain Mr Highcock) has consistently shown a stronger performance than the smaller but attractive J111 and not unexpectedly took the Class 1 prize.
One of the best features of this series is the race management. FYC's Pete Wright has developed a specialty of quickfire back to back races (as well as terrible jokes) and on the water there is no messing at all. Clear VHF instructions and let's get going. I missed the prizegiving but he deserves thanks and some acclaim from all the competitors. However the wind direction today was difficult to accommodate using the fixed marks and although a slightly more windward buoy was selected for the second race it was still a hopelessly skewed line which, along with the strong tide led to complete starting mayhem and, we were told, the necessity for pacemaker battery replacement on the committee vessel. In the photo below you can see the chaos beginning to develop as More Misjif ducks Leomaris stalled on the line and as everyone tacks, a log jam in which contact occurred ensues.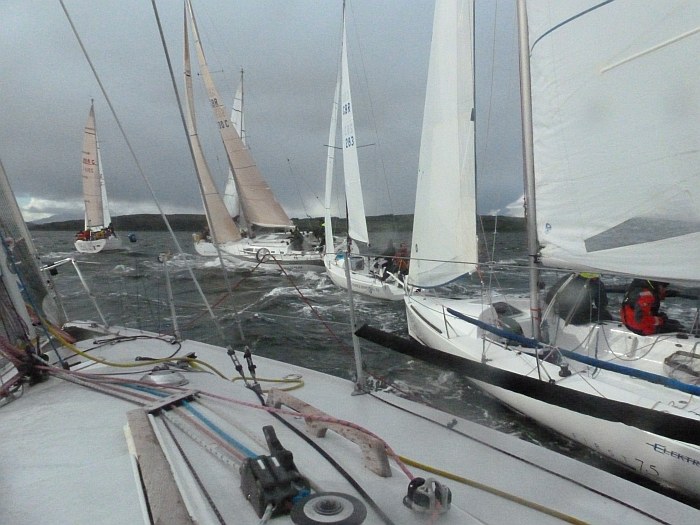 Here's Piecemaker, 4th in Class 2 digging a Moody size hole in the Largs channel.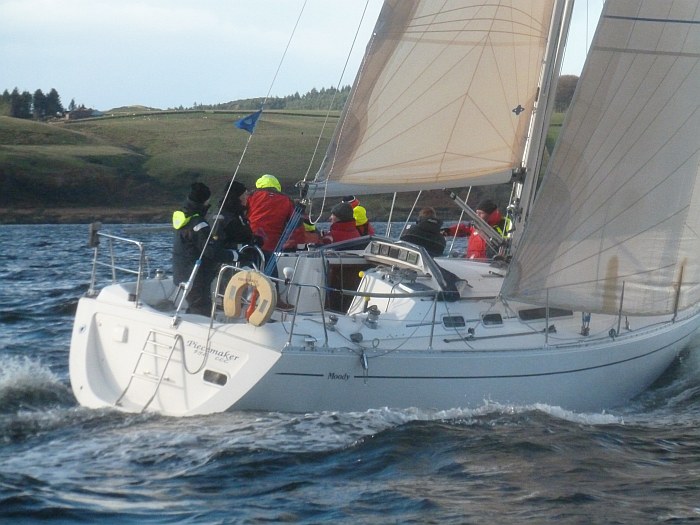 There have been sportsboats mixing it with the heavy plastic too. Colin MacDonald's 1720 Water Tiger almost qualifies for the YL kenspeckle appelation but as he so enjoys his One Design racing here he is.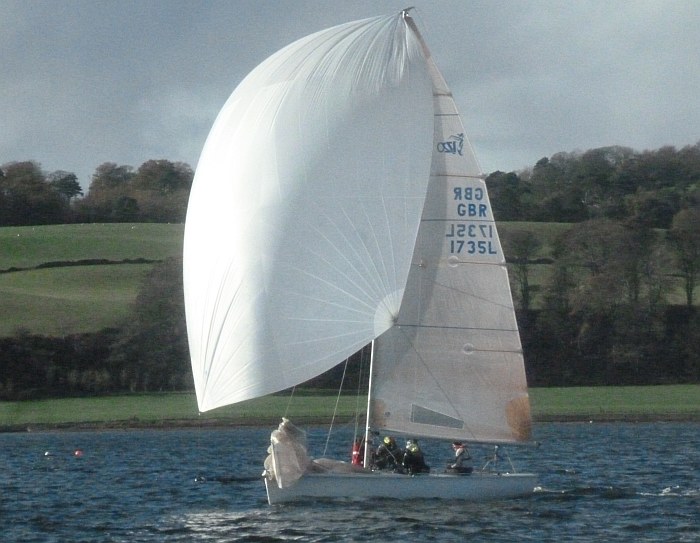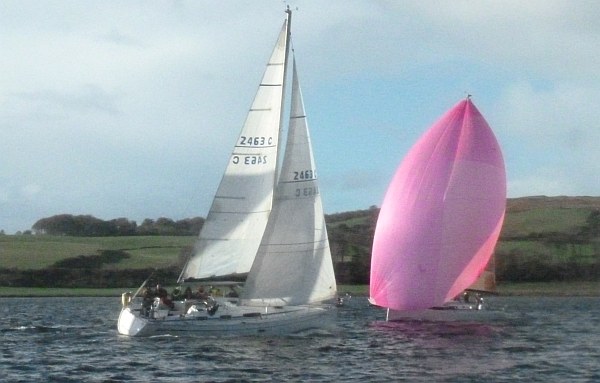 So that's it. Hibernation, boatyard work and planning for next year. Do use the forum to spread ideas around. Not everybody uses facebook and it's not as brilliant for networking as they like to think although the clydesailing facebook page is getting plenty of views. And if anybody could use a spare crewperson for sailing in sunnier places until then, I'm free.
---
FYC autumn points round 5
It's old news now, but that was a pretty horrible day on the water last weekend. I merely show this pic because it got so many views on the facebook page. It's hardly Cartier-Bresson but the decisive moment is difficult to capture when you're very wet and perched on an Impala.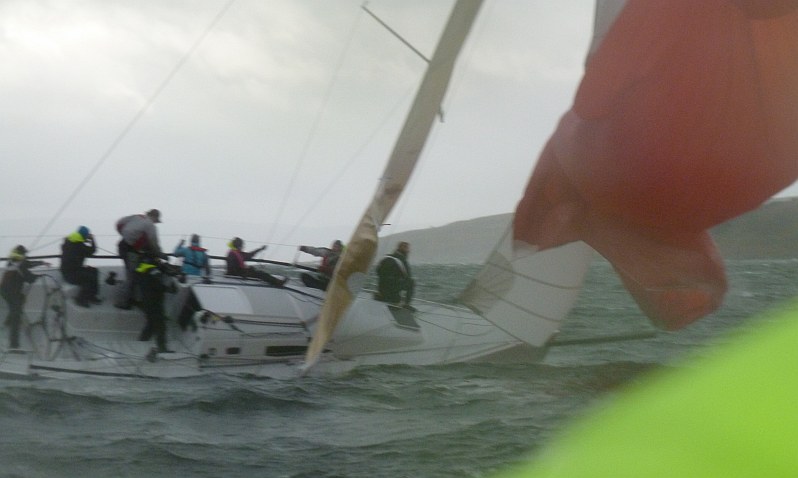 And please don't ask me how it was I came to snap this next one.....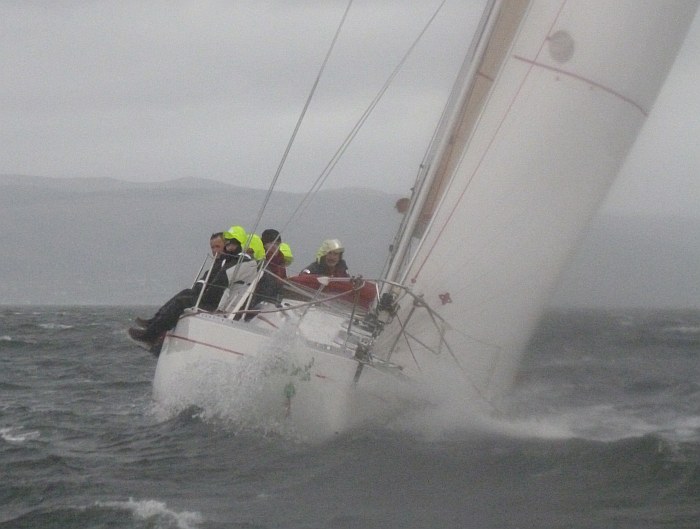 ---
Serpent Yacht Club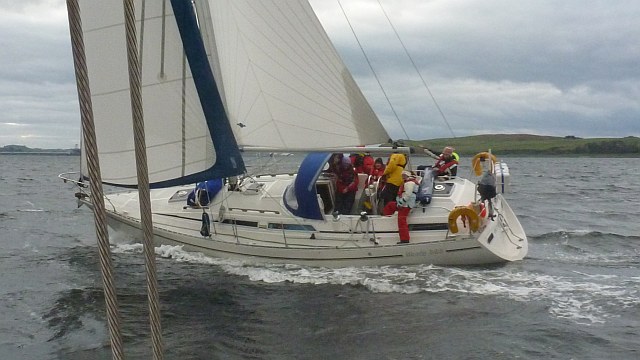 A great many people will never have heard of the Serpent Yacht Club and it is entirely possible that there are some who have but wish they hadn't. However, for those who are thus unaware, it is a small RYA and CYCA affiliated club which was started back in 1976 by a bunch of doctors. Now doctors may be considered an odd bunch anyway but why they should have wanted to set up a club for themselves and other medical-related personnel is lost in the mist of time. As far as I know there is no yacht club specifically for legal professionals or postmen although I believe the police have one. Anyway, the club still exists and runs about 5 sailing events per year. You don't have to be a doctor - pretty tenuous connections to the healthcare professions are acceptable -we have an active owner whose wife is a pharmacist, a family whose daughter was a trainee dentist, another whose mother was a nurse and so on - as well as more directly connected individuals such as medical physicists and indeed actual medics both active and retired. The point is that it's a friendly club which runs fun races and musters - you don't have to race although why wouldn't you. While there are regular racers amongst the members, the majority are not serious racers and the standard of competition is rather more relaxed than you would tend to find in the bigger clubs. This more informal flavour makes the club events ideal for newcomers or people who would like to go sailing along with others but find the more serious races of the big clubs a bit daunting. As many of the more senior members have acquired blue water yachts and gone long distance cruising, the club is particularly keen to attract new members to be active on the Clyde and if you have any healthcare connections (having had your appendix out doesn't count) you would be most welcome and most enormously welcome if you actually have a boat. You can find out more, including how to get in touch via the serpentyachtclub website . and the SYC events are listed on the CYCA calendar as well. For 2013, all that remains is the annual dinner in the Blysthwood Hotel.
---
As many will have noticed, Clydesailing has suffered virus attack in the last few weeks and we have not been able to eradicate it. In an attempt to solve this permanently the entire site has been taken down. This site has been running for at least 15 years and I hope that it will be possible to restore it to something resembling its former appearance. In the meantime this is a test page created on new software on a new operating system on a different hard drive and put through two different antivirus programs. If this comes out clean then it will be basis for further development.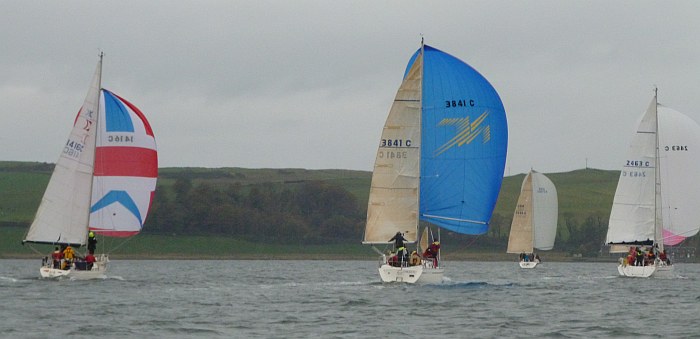 More cheerfully, Chas was out this afternoon on the 4th of the FYC Autumn points series on board Mercenary (anyone want to buy an Impala?) and was able to take a few photos. Unlike the previous 3 Sundays at Kip the weather was somewhat dismal with only a very brief sunny respite. Plenty breeze though with Pete Wright able to set a decent windward leeward course from Fairlie Quay over to the Cumbrae shore. There are two classes - IRC consisting on this occasion of just two boats - Jacob2 and Warrior who each won a race. Jacob2 as seen below was being driven by Dan Challis although in the photo you can't see his new go-fast Ben Ainslie-style beard.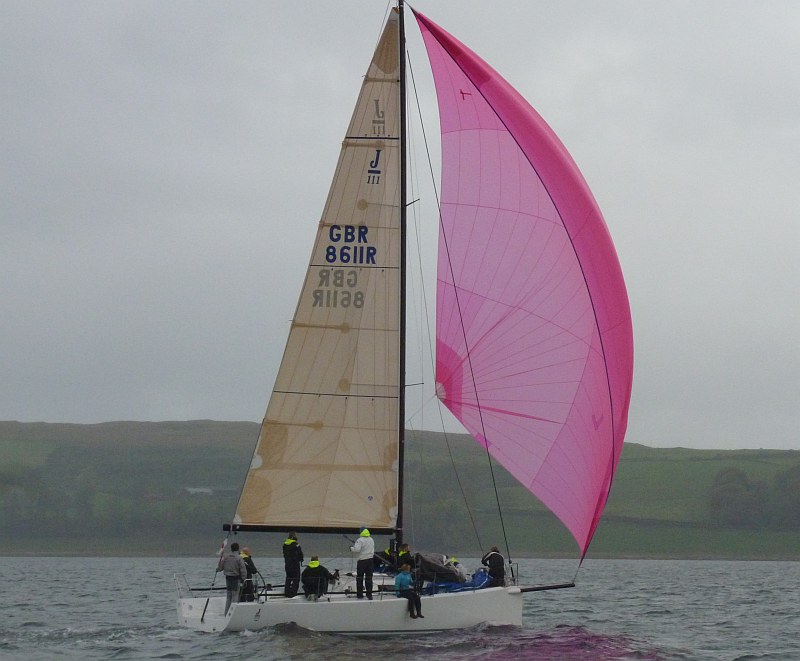 Warrior presents a fine sight when going well. Having won Race 1 they were impressively stuffed out of the start line in in Race 2.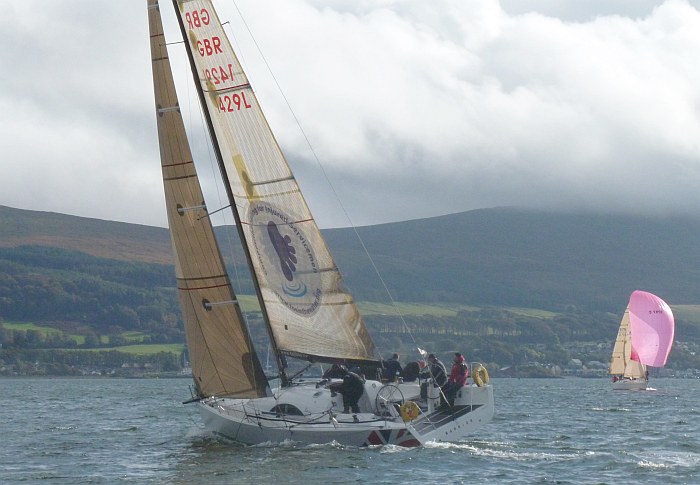 CYCA has a much healthier entry - if Moody 336s can be considered a healthy option - only kidding. With both Misjif and More Misjif competing against each other and leading the series one does wonder what follows - Really Quite Naughty perhaps? More Misjif pulled a first but top spot in the second race was taken by Leomaris, Richard Grey's (whisper it) Bavaria.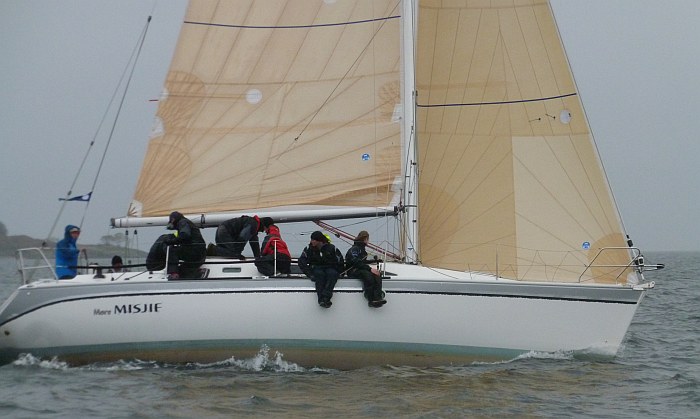 On Mercenary skippered this series by Ken Brown in the absence of owner Mark Bradshaw who next season will be taking on the Sonatas we were hampered by dragging the outboard leg, propeller and a great deal of water - at least that's one of the excuses. Back next week for more hilarity anyway. The results are on
HAL's race results from FYC website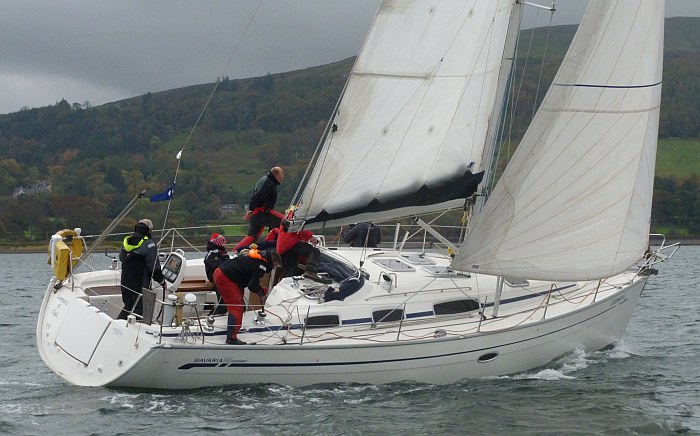 ---
Speaking of boat changes I was surprised to see Texa, CCC commodore John Watson's very tidy Elan 40 in the Kip brokerage lineup. Whatever next? Usual form would suggest a Hallberg Rassy at Ardfern but then again maybe not.
There is actually a good selection of well performing cruiser racers at Kip should you have the not inconsiderable funds. A choice of two Elan 40s is a rare sight in these parts not to mention a nice Grand Soleil and several others. There are also plenty other more affordable possibilities and it is worth emphasising that with a bit of care and planning and maybe a little diy you can have just as much fun on a small inexpensive yacht.
---