Eala Of Rhu - Middle Sea Movie Trailer
You must watch. Agog for the full swashbuckling production.
---
Stinkboat Festival on Lomond Pond

Not normally Clydesailing territory this but it is at the request of John McMurtrie who has been a Loch Long enthusiast since infancy. So immersed was he in Loch Longs that he followed them down to Aldeburgh and started a chandlery there. He has since returned and now has a shop based at Cameron House Marina on Loch Lomond as seen above. To get to the point on 1st & 2nd November, Cameron House Marina in conjunction with Marine Sales Scotland will be hosting their first Boat Show and warmly invite boat enthusiasts of both the motor and sail persuasion.
John states 'Marine Sales Scotland will be exhibiting the very latest new Sunseeker San Remo, the latest Broom 35 and 30 Sedan' as well as various Binliners sorry Bayliners, sport and cuddy and Quicksilver Pilot House craft. Volvo Penta will be present co-representing highly priced machinery along with a display of Bentley, Maserati and MacL aren cars and there will be a full shop on site with Boat Show offers.
I refuse to make any mention of Jet Ski safari tours, those devices in any form of maritime hell being the preferred conveyance of Satan and his acolytes.
So pop along and have look at the marina, see the Boathouse restaurant in what is undoubtedly a most scenic location and be thankful that the vessels therein are confined to to the Loch. John says he has many offers of interest to proper sailors and that there will be plenty to see.
---
Woodfarm Rock
Woodfarm Rock in the Kyles of Bute has long been the cause of innumerable expensive keel repairs. A Clydeport survey in 2001confirmed that there were more hazards in the South channel than were previously charted but despite a revised Admiralty chart being issued in 2003 the groundings continued. It was generally agreed that a North Cardinal, marking the NE corner of the rock would be a more helpful navigational aid but Peelports Clydeport (formerly Clydeport), having fulfilled their duty to provide a safe navigable channel (the 'steamer' passage) had no funding for this. The Clyde Yacht Clubs Association with secretary Donald McLaren at the helm finally established an agreement earlier this year and the work has now been concluded. McNair Engineering constructed the new beacon in June and Jamie McGarry and his team at GSS have completed the installation. We have been in the happy position earlier in the year of thanking Jamie McGarry for his Scottish Series sponsorship and once again HUGE thanks are due to him for completing this major piece of work at no cost.
Donald McLaren
This picture above shows the GSS vessel 'Lesley M' lowering the new beacon but not before GSS divers had spent 12 hours in 2-5m depth drilling 4 holes 500mm deep into the rock to take the mounting studs. That is, each hole took 3 hours underwater to drill. This next picture below is interesting. It shows the completed perch mounted on the rock with the original buoy, lying to the tide just before it was lifted. It is not hard to see why there have been so many incidents.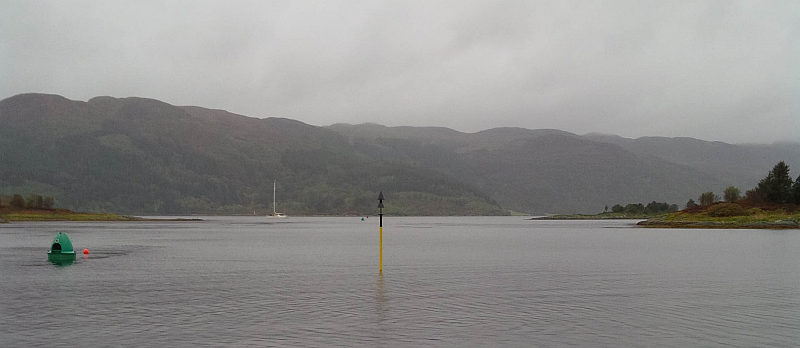 Photo- John Friel, GSS
Donald McLaren
This is an outstanding piece of work from which all who sail in the Clyde will benefit. As well as the enormous thanks due to Jamie McGarry and GSS, thanks are due to the following clubs which contributed funds towards the costs. - CCC, RWYC, Mudhook YC, Clyde Corinthian YC, FYC, RSMYC, HSC, Holy Loch SC. And finally, since he isn't going to mention himself on the CYCA website, we are grateful to Donald McLaren who has pursued this project so tenaciously that the resident RGYC wag has suggested that the mark be renamed the Donald McLaren Memorial Perch - but hopefully that would be many years in the future.
The Clyde Yacht Clubs Association survives on the most threadbare of shoestring budgets but this team effort shows what good work can be done when there is a real will to pull together.
---
CCC Closing Muster
Where did the season go? We're sorry to be missing this one.

TARBERT, Saturday 27th September 2014

This is undoubtedly our most popular Race/Cruise of the season to the sheltered harbour of Tarbert, the final bash before battening down the hatches for the winter ahead. To book for racing please contact the office as below. See http://www.clyde.org/racing/sailing-programme-2014/ for details.

With an informal muster on Friday at Rothesay in the" Black Bull" or other local hostelries then on Saturday the race to our Shore Side Party at Tarbert on the clear ground past the marina office (we will have the use of a Marquee
this year, in case it rains!)

All CCC/Fairlie YC/Arran YC Members and friends either racing or cruising will be welcome to join our "Pontoon Party" (we had over 150 members last year) with Beer/Wine/soft drinks and Nibbles from 1700 to 1830 hrs then to our traditional CCC end of season dinner at 1900 hrs in the Tarbert Hotel, book direct with the Tarbert Hotel 01880 820 264

All contributions to nibbles gratefully accepted.

Look forward to seeing you there.

Clive Reeves

CCC Vice Commodore
---
GSS Regatta
This was a regatta of two halves but at least one day provided good sailing which is I think the as good as this regatta has ever managed. Saturday was a day of fog, wholly absent wind and some eventual sunshine. Of various available photos showing the mirror calm I thought this one of Dane Ralston doing a selfie in the water conveyed it best. On shore there was a band , barbeque, the usual festivities.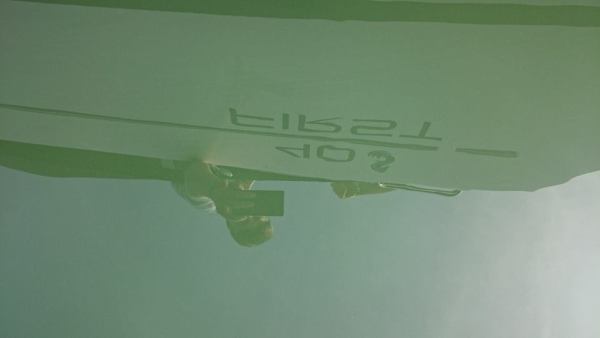 As is the way these days we weren't there but there was a fair turnout with a surprising 39 entries in 6 classes. IRC 1 was pretty sparse with just Zephyr winning in front of Warrior and Aurora. IRC 2 was somewhat better with eight contenders. To nobody's surprise the class was won by Sloop John T with Salamander XX1, More Misjif and Carmen 2 all on 10 points but separated into that order of placings. Neill Ross's dramatic shot of Sloop John T shows the action just as the spinnaker is being hoisted by someone who appears to have a most impressive beard of the type we see a lot on TV these days. The wind picked up steadily to 15kts so there was plenty of brisk boat handling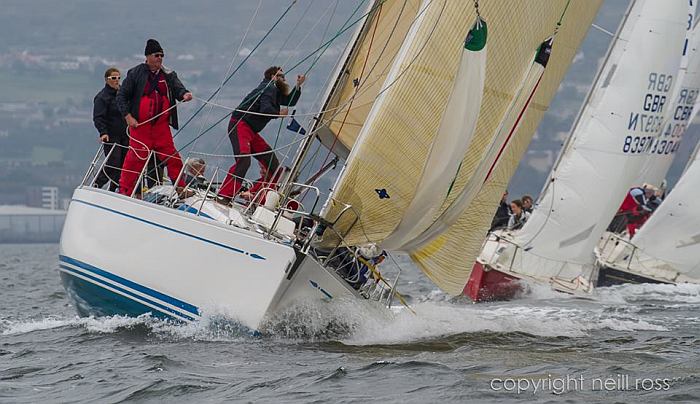 Neill Ross
Next is Ian McLachlan driving the McLachlan/Harvey Dehler 36 Polaris to 6th place.
Neill Ross
Spot the Howisons on Zephyr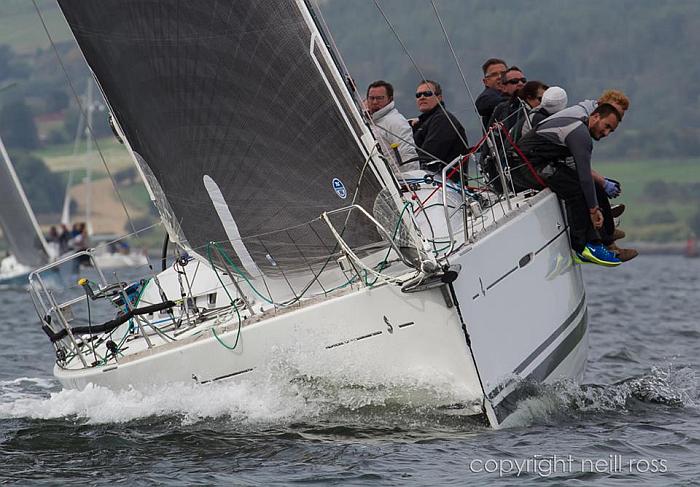 Neill Ross
Rounding up IRC 2 - well just ahead of Animal is Team Dryburgh in TJig4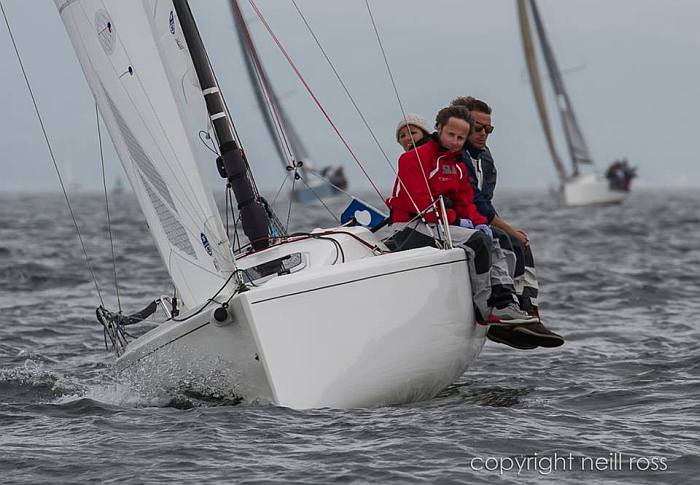 Neill Ross
Sigmas on the Clyde show a hesitant resurgence with 5 boats out for this one. There were stories of close calls and near skewering owing to some arrangement of the courses - this pic was taken with a cameraphone possibly from Zephyr I think - not a RIB. This I think is Leaky Roof apparently on Port.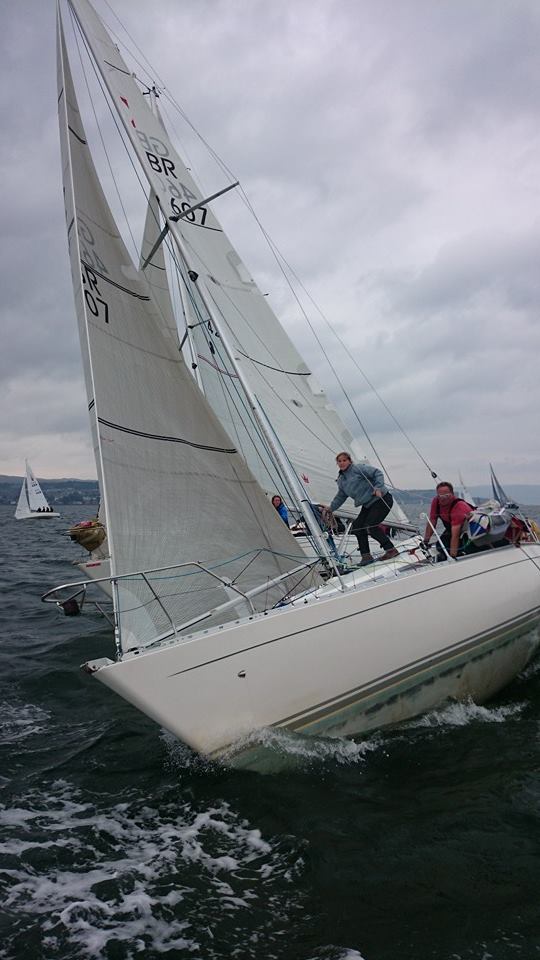 Des Balmforth was doing mainsheet on the Harold Hood's class winning Sigma 33 'Odyssey II ' and submits the following:
" Saturday started late due to the fog and unfortunately didn't come to anything more than a sociable drift around in the sunshine waiting for wind that never came. That made for a great barbeque despite missing out on racing. Sunday came with a light breeze from the North and the first start was on-time in a F2-3. There was a fair amount of pin end bias and we won that end of the line on the first start with good speed in a race which we worked hard to keep our lead throughout and end up with a 1st. Race 2 saw similar wind conditions but this time we were a little early and shut out by
Sigmatic
. Having managed to recover 1 place in the first leg we just couldn't catch
Leaky Roof,
Mayrise
or
Sigmatic
until the final beat which illustrated how close Sigma racing is. By working really hard to keep height and speed we managed to tack less than Leaky Roof or
Sigmatic
and pipped them.
Mayrise
got 1st place, with us placed 2nd. The committee boat did a good job of getting a 3rd race going promptly to make the regatta a series and going into the last race we were on 3 points, with
Mayrise
and
Sigmatic
on 6. The wind had risen to F4 and we had a good start at the pin end but
Sigmatic
got her bow forward underneath us, managed to cross us and covered us from ahead from start to finish - a convincing win. This race was harder work, de-powering the boat more, and our second allowed us to win the class.
Despite the frustration of Saturday the regatta had been well run with a good turnout and a great social - we all really enjoyed it."
The East Patch Sonata fleet has been keen as mustard and this event was the Sonata Scottish Championships. The picture below shows Doug Paton's effort named 'Colmans' possibly owing more to the dubious colour rather than it being particularly hot stuff although he did manage 3rd place but a good few points behind the East Patch regulars Saraband and Jazz. Snotty Facebook users should look for West Coast Snottas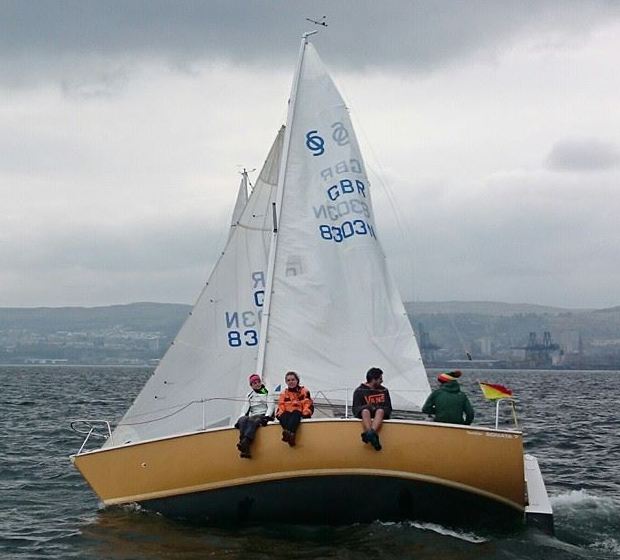 A fine display of gnashers as Jazz receives the class prize.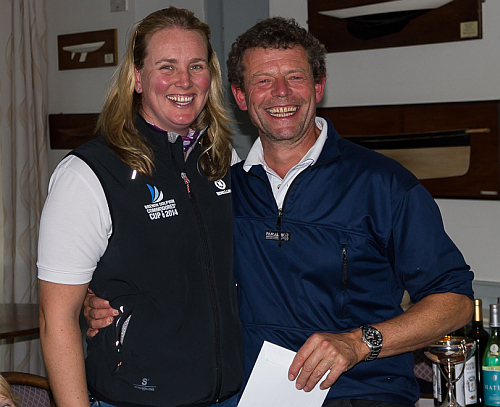 CYCA didn't really amount to anything but this regatta being based at RNCYC there were Sonars out and Simon Pender in Grouse won that with two first, two seconds and two thirds.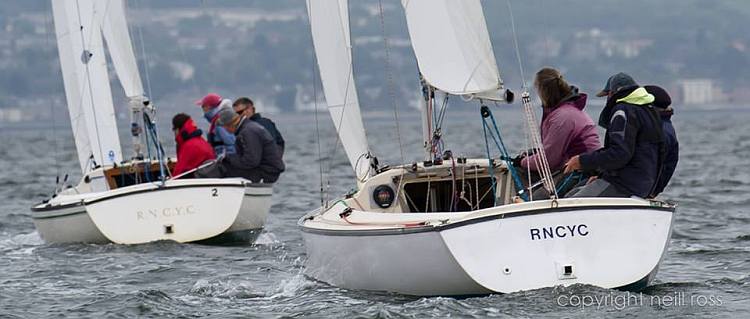 I should mention that there was a restricted sail class doing some sort of passage race and this with 6 entries was a 1- 2 for the Brians with the mighty Glenafton in front of Brian Robertson's normally hard to beat Celtic Spirit.
---
Barts Bash Clyde Yachts Canned
It was worth putting it out there but it's a pity that the Clyde Yachts Barts Bash has had to go the way of the 2014 Icebreaker. There was really no point in pursuing it further as Pete Wright and Ian Marshall explain: read on.
.

The Barts Bash Upper Clyde committee met at Royal Gourock Yacht Club this evening. It was with a heavy heart that we decided to abandon our participation in the race having taken into account the literature published on the Barts Bash website.
We have only just received this literature and the requirements for the race contain some surprising caveats that make the race difficult to run. Our understanding had been that we would run an interclub race on a simple course and have an additional peripheral cruising in company course. The reality is that the clubs have to operate individually and a requirement of a minimum 25 entries for each club to qualify for a Barts Bash entry is looking very difficult to achieve as to date we have only received 2 entries for Royal Gourock Yacht Club. The chances of raising 25 entries from any of the other keelboat clubs are very small.
We would require "witnesses" and "stewards" who would be also need to come from outside of sailing along with extensive requirements for filming and photographic records.
The time of year has many of the day boats being winterized and the likelihood of poor weather in the autumnal equinox threatens attendance of larger competitors.
Whilst we have pulled back from organising the race, the committee felt that it is very important to follow the ethos of Barts Bash and we ask that donations be made in lieu of race fees through the Just Giving website to support the charity in its aims and aspirations which we fully endorse.
"The Andrew Simpson Sailing Foundation transforms the lives of young people through sailing. Everything we do is driven by our belief that all young people have the ability to excel - through sailing we provide opportunities to grow, achieve and inspire excellence.
Inspired by Olympic Gold and Silver medallist Andrew 'Bart' Simpson, and founded by Sir Ben Ainslie CBE, Iain Percy OBE and Andrew's wife Leah, the Foundation helps young people to develop the personal skills to succeed in life and improves access to jobs and careers within the maritime sector.
Our activity principally focuses on young people between the age of 5 and 24 and we aim to combine invaluable time spent on water alongside providing life changing inspiration and encouragement.
The Foundation's activities include a number of major projects : Bart's Bash, the Andrew Simpson Sailing Centre, our Ambassador programme and our developing International program. The Andrew Simpson Sailing Centre is a sailing school at the London 2012 Olympic venue in Weymouth and Portland that was opened on 9 May 2014 and is used both to provide sailing opportunities for young people and to support our charitable activities."

---
Holy Loch Polaris Regatta

We weren't there but snapped a couple of Polaris pics on our way back to James Watt Dock after a Serpent YC outing. This is from the Sunday round the cans white sails race. This event looks to be a great way to do some local easy spinnaker-free racing with plenty of space and no shouting.
The old quarter tonner Ravels (a David Thomas designed Bolero), long a Kip resident, has scrubbed up really nicely and looks in great trim here somewhere in the vicinity of the Levan mark.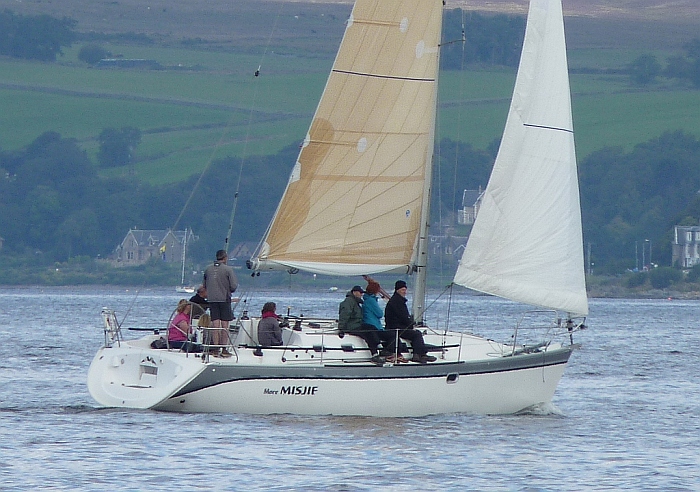 Although big boats were in evidence with also Carmen and Warrior visible on the park it was good to see the white sails class being won by Wee Bob, erstwhile bow monkey on Ft$e & Roxstar, sailing his own immaculately restored little GK24. Also from another era and always a solid Holy Loch contender the Greenock-built MG RS34 3/4 tonner Applecore was out and seen here struggling in a wind hole. Still a very good looking design to my eye.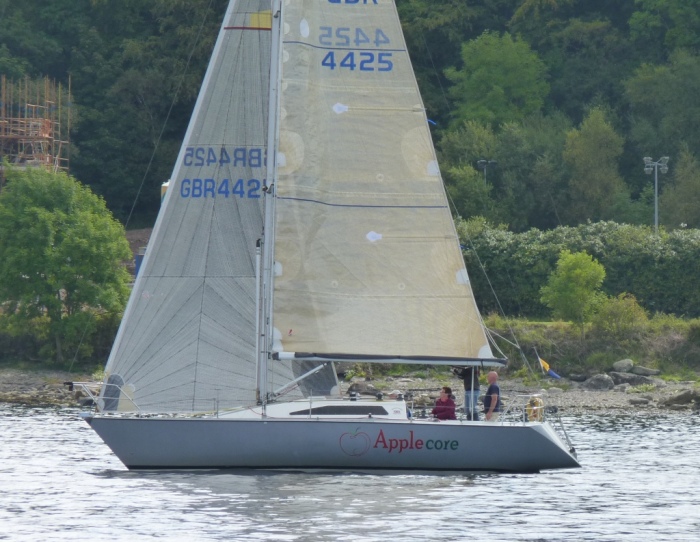 There were 9 white sails entries this year and the results thanks to HAL are on the
Polaris Regatta website
. Holy Loch is the Clyde stronghold of Flying Fifteens and there were 11 of them out, the class being won by Alasdair Ireland in Ragamuffin. All I have to say is that if Ruaridh Angus is going to sail a FF called Mini Misjif he really must add the extra f on the end. Make it so please.
Nine Pipers were out with Tamarind from RGYC in top spot. Strangely only 7 dinghies feature in the results and 3 Loch Long survivors of the Aldeburgh raids took part with Alan MacLeod taking leave from Tanit etc to score another win.
There is surely scope for this event to grow especially with pushing a white sails class to the exclusion of others.
---
Scottish Series Questionnaire
After what appeared to be a pretty successful 2014 Scottish Series the Clyde Cruising Club have been getting their monkeys to create a survey which you can complete here:
https://www.surveymonkey.com/s/V28TGPJ
If you have any interest in ever taking part in the Scottish Series or whatever it might transmogrify into you should fill it in. Not many questions and will take very little time.
And don't forget the
GSS Regatta
which takes place this weekend although at this point it looks like you'll want lots of suncream and a good book.
---
Serpent Yacht Club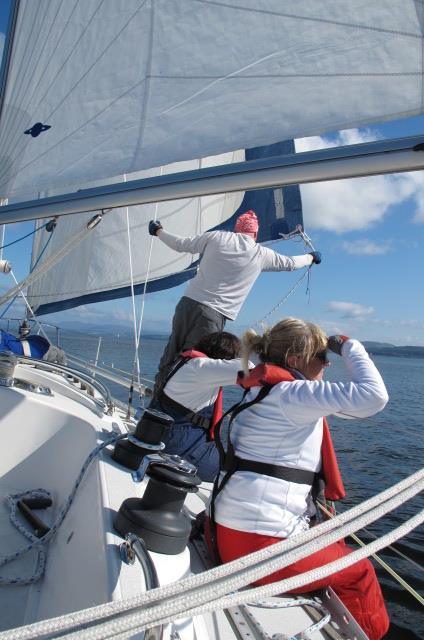 Had seven yachts out for their Autumn race/muster which ended up in Rothesay. Two further boats cruised there so that was not a bad turnout for a wee club and demonstrates the cameraderie which exists within. Class 2 had their race shortened at Hun1 shortly after which a good sailing wind picked up. Class 2 (there were no spinnaker boats to form class1) drifted into the Largs channel on the tide and by the time we had reached Millport the wind was gusting a good 20 kts and making us wonder why we had our big old No1 on the front. It was as idyllic an evening as Rothesay is capable and a convivial dinner followed in the Victoria Hotel just along the road but not until Seamus the commodore subjected himself to the icebucket challenge on the harbour pontoon. The picture shows some of the crew of Out Of The Blue (or Ootbee as she is known) vainly searching for wind on the return pursuit race. The
club has it's own website
managed by guess who.
---
Holy Loch Polaris Regatta

The actual Polaris or Pole Star may be 434 light years away but you only have to paddle over to the Holy Loch to enjoy one of the Clyde's enduring regattas. As with last year the white sail fleet will be sent off round the north of the Firth whilst the one designs and dinghies do battle in the loch. Last year the club experimented with a fixed line start from Lazaretto Point and this will be repeated this year which is great for spectators and could make for some interesting starts. And I'm sure the legendary bacon rolls will again be in evidence although I read recently that each one ( not specifically Holy Loch ones although they may be even worse) takes an hour off your life....
---
Largs Regatta Week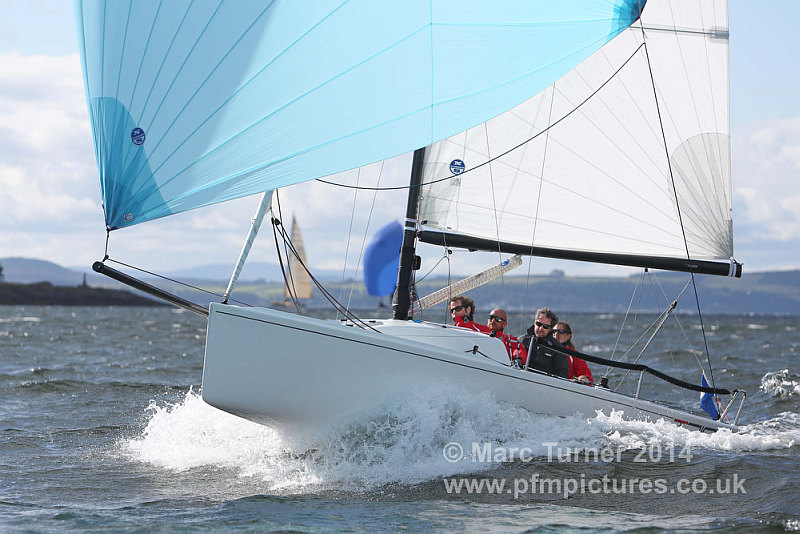 Some great pics from Marc Turner
It looks like a great day on Saturday. Not much wind on Sunday - the dinghy classes were cancelled but the leadmines had a late start and managed one round of the Cumbraes. As for the social aspects I haven't heard.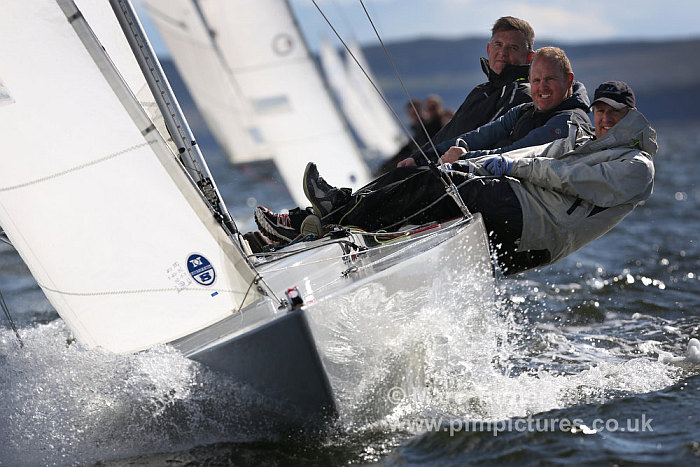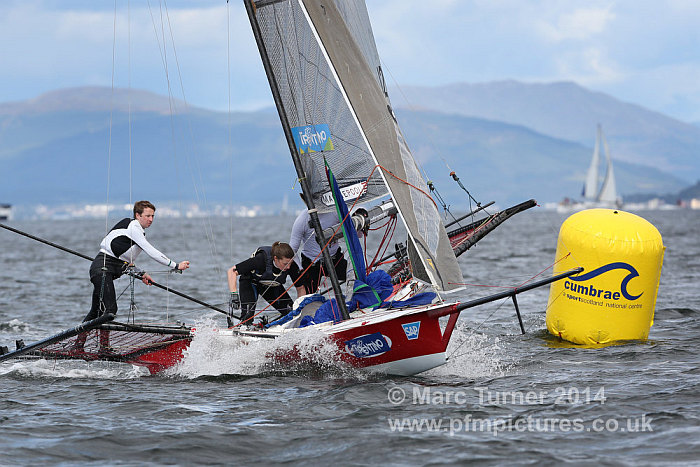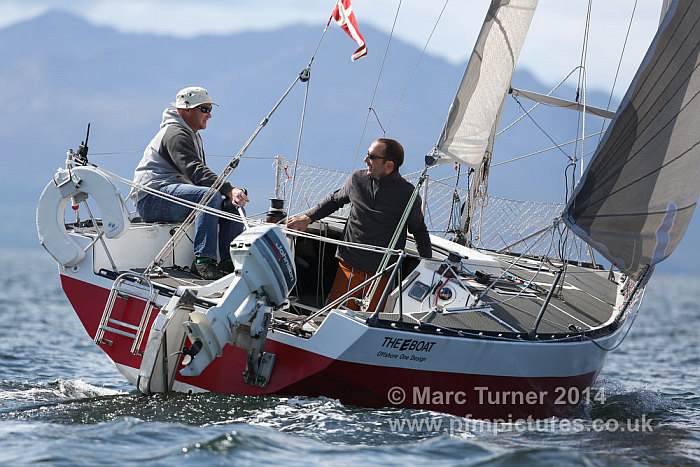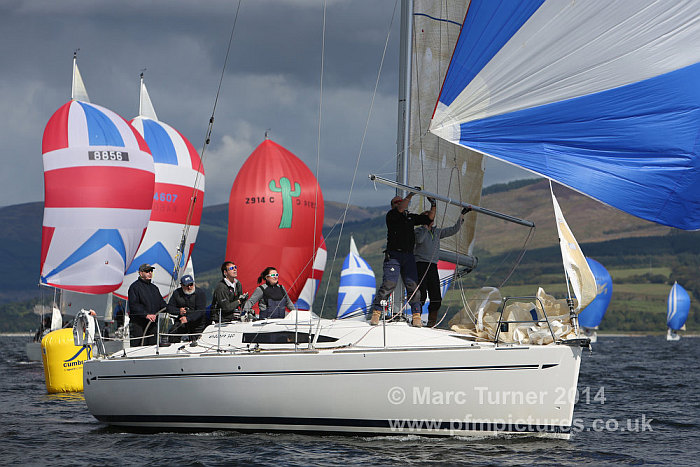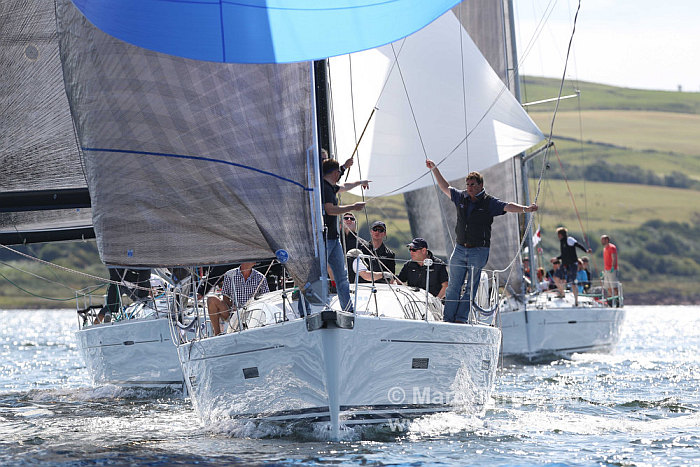 Unfortunately Troikka will miss the 2 handed this year but maybe just as well given the forecast at time of writing.
---
Largs Regatta Week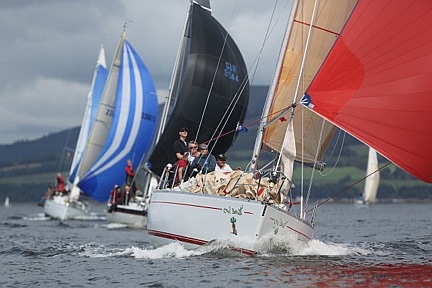 Not long now to the 25th (yes 25th) edition. The regatta week has its own neat
website where all the NORs
and entry forms can be found and downloaded. It looks to be a good one. Even the hogs are dying to go. And the Scottish Two handed race, the weekend after the Cumbraes Regatta is an increasingly popular race for all comers and a great day out for cruisers who don't do that round the cans thing.
---
Barts Bash - 21st September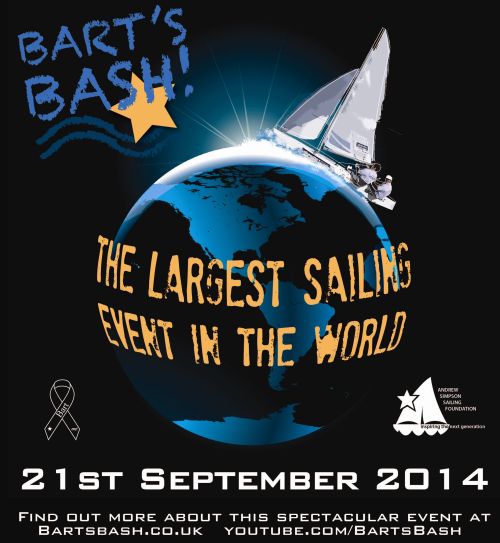 Once you have recovered from Largs Regatta Week, not to mention the dreaded Referendum, Barts Bash will soon be upon us. The Clyde yacht clubs are combining to join up for one yachtie Barts Bash at Royal Gourock Yacht Club as their site best suits the purpose. On the extensive Barts Bash website you can register and enter for the race by
clicking here
. Whilst there is no entry fee the process involves making a donation and the Barts Bash crew request a minimum of £5 per person taking part. Such a request may give your crew palpitations but remind them that it is a charity after all and it would hardly be fair if a teenager in a Topper was contributing the same as a fully loaded IRC boat. On the Barts Bash website you can find Royal Northern, Cardwell Bay, Royal Gourock, Holy Loch, Fairlie, Largs and even the wee Serpent yacht club. Allof these will be racing at Gourock. Other Scottish clubs are of course registered but are out of range of the race we're discussing here. The coure is promised to be a fairly simple one comprising a tour of fixed marks in the Rosneath- Gourock-Holy Loch patch. Race insurance is mandatory but if there is sufficient interest it may be possible for cruisers to participate in a non-racing cruise round the course after the racing is under way. So start getting crew aware and put in your entries.
---
West Highland Week
A bit late but we were away cruising. Looks like a great week and we have the final press release from AlisonChadwick and some superb (copyright) photos from Ron Cowan's Yachtingimages.co.uk. Congratulations to Carmen 2 who, just as game as ever, took the top prize.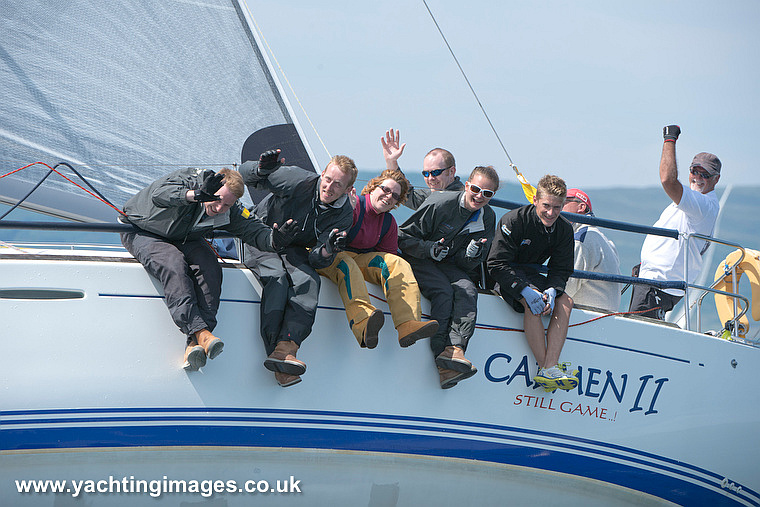 PAUL Scutt and Alan Jeffries lifted the top prize of the Peter Cocks Memorial Trophy for the best performance of this year's West Highland Yachting Week in their First 36.7 Carmen II. With a scoreline of five firsts and five points, the experienced team clinched the series that saw a week of contrasting weather giving sailing conditions from light breezes to winds at stages gusting over 40 knots.
Carmen II also lifted the MacBrayne Centenary Challenge Cup for the fastest passage from Craobh to Oban and Tennent Caledonian 25th Anniversary Salver for the best corrected time from Tobermory to Oban.
Former overall title winner Craig Anderson with his Moody 336 Cool Bandit 2 won the Angus Meldrum Trophy for the best corrected time from Oban to Tobermory and the Iona Shop Trophy for the best corrected time over all the passage races.
It was a very tightly contested points series with consistent performers in the top three placings each day.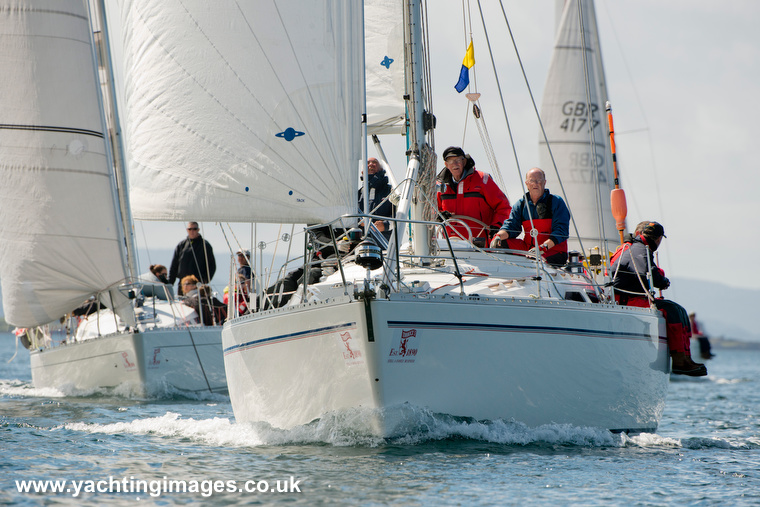 Class 5 had seen great competition between major WHYW sponsor Boyd Tunnock MBE with his crew on Lemerac against Cool Bandit 2 across the week with all to play for on the final day. However Cool Bandit took the win pushing Lemerac, with a third place in the Tobermory to Oban passage race, two points behind into second place overall for the series. This is a great shot of Mr Teacake hinself in action. Long may he continue.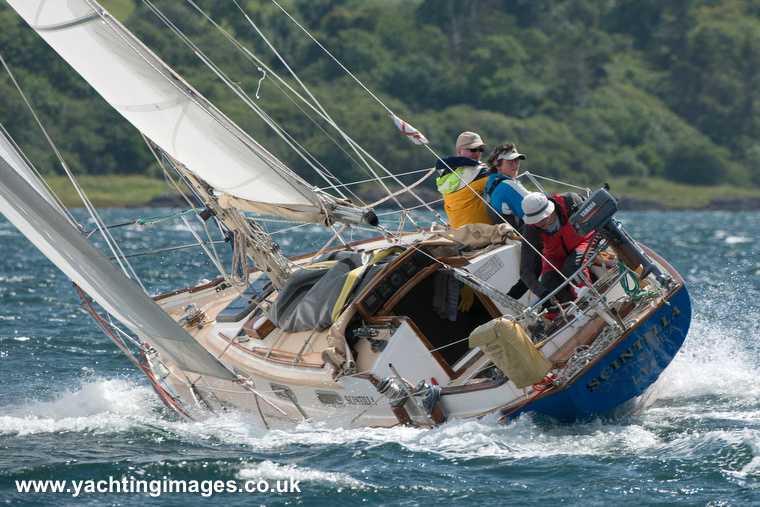 Probably the most popular class win of the week was Marian Austin and her team on Scintilla of the Sea, the family owned Northney 34. Marian has been racing WHYW for 29 years and this is her first class win despite being a consistently top performer for each one of these years.
The much prized West Highland Yachting Week Family Trophy was awarded to Douglas Gray and his family on Aliz Motte, their Rival 34.
The Endeavour Trophy was awarded to the Sonata Serenity that had to retire and fix a popped shroud on Wednesday but made their way to Tobermory in the early hours of Thursday morning to continue racing in the series.
Both Gaelforce Marine and Nancy Black Oban donated prizes with Nancy Black's opting for the 'alternative' approach. The 'Wet Wallet' was given to Red October (Findlay Clark's Club 19) for the wettest £20 note received after a passage race! But the boat's sterling performance in every race across the series was being 'noted' as the smallest and arguably wettest yacht. Their consistency, in adverse conditions for this size of boat, has won them admiration over the last few years that Red October has competed.
There was also a prize for Malindi of Lorn who celebrated her 50th birthday in tandem with the celebrations for Nancy Blacks's 50th birthday.
A Nancy Black's voucher for the best 'playpen' at WHYW was awarded to Seanachaidh for the number of youngsters aboard. Ruaridh from Sunrise was awarded a prize for his help on the first day of the series at Craobh Marina for getting the marks out to the committee boat. After being stuck on one side of the pontoon, the marks ended up in the water in the transfer and Ruaridh rescued each one, despite becoming very cold in the proceedings!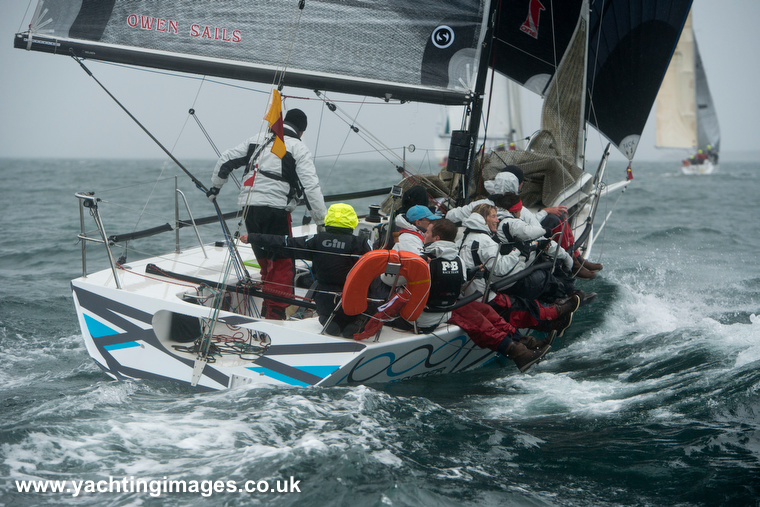 Overall, despite a drop in numbers associated with the change of date to avoid a clash with Scotland's Commonwealth Games, the consensus was WHYW 2014 was a great success. 'Everyone is looking forward to next year's event which will resume the normal date of the first week in August,' said Joint Regatta Committee organisers chairman David Waltho.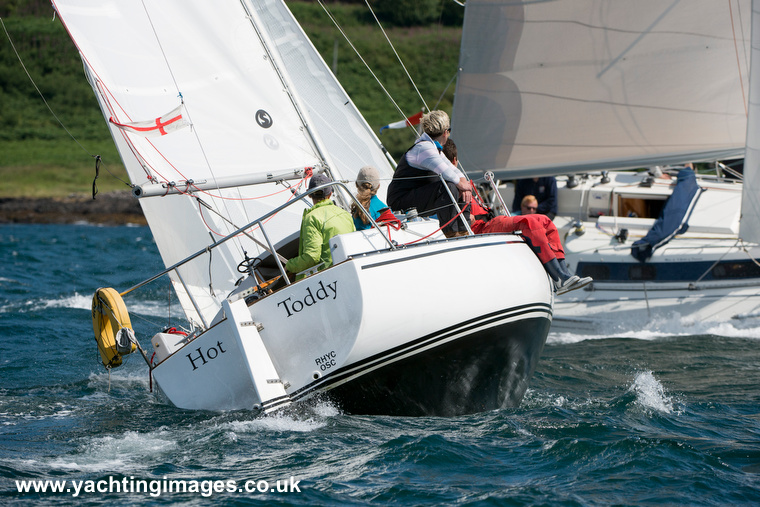 Not only does Alison Chadwick do the publicity, she drives her venerable Sadler 25 pretty hard.
So you noted that - normal service resumed for 2015 ie first week n August. Full results here.
All photos copyright yachtingimages.co.uk and used with permission and with thanks to Ron Cowan
---
FD Worlds at Largs - Hungarians win
One race was sailed on the final day of the Flying Dutchman Worlds at Largs to seal the Championship. Competitors enjoyed a lay day on Thursday, with many taking a trip on the Paddle Steamer Waverly around the island of Arran. Friday was scheduled to be a racing day, but 35 knots of winds prevented any sailing. Saturday was the final day, and the start time was brought forward to try to fit in two races, but in the event only one was possible as the winds died.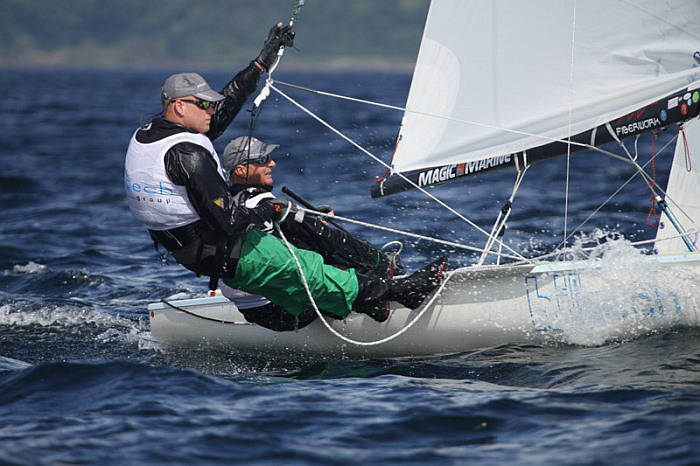 pic - fotoboat
The championships concluded with the Hungarian pair of Szabolcs Majthenyi and Andras Domokos taking first place in the final race and continuing their series of great results throughout the week long regatta. It wasn't all plain sailing, though, as they reached the first windward mark in sixth place but their superior boat speed helped them battle their way to the front, finishing ahead of Italian brothers Nicola and Francesco Vespasiani by almost half a minute. Third place in the last race went to defending World Champions Enno Kramer and Ard Geelkerken from the Netherlands. This final race was sailed in 15knots with gusts up to 20, but as the last boats finished the breeze faded to a shifty five knots, making the start of another race impossible.
...........................................................................
Alan Henderson/Fotoboat
Yes this is actually a colour photo. Really pretty nasty weather for an opener. We heard the Mexicans and Italians came in early complaining of the cold! Certainly not what we regard as Mediterranean conditions...

Alan Henderson/Fotoboat
WET AND WINDY FOR FLYING DUTCHMAN WORLDS
The 2014 Flying Dutchman World Championships started at Largs, Scotland on Monday 14th July. Competitors withstood a tough introduction, in a war of attrition with the conditions. Southerly winds of up to 22 knots in gusts and heavy rain gave a stirring start, with many boats capsizing and suffering gear breakages.
Only half of the fleet of 42 boats were still standing and able to answer the call for the second of the two races sailed today. The first race was held over a long initial leg of two miles, but after visibility closed in, the second race was over a reduced course size of just one mile, but sailed over three rounds of the shorter course, rather than two large rounds.
But the change in course size made no difference to former World Champions Szabolcs Majthenyi and Andras Domokos, of Hungary, who opened the week with two emphatic race wins to establish an early lead in the Championship. They won both races by over two minutes to show their class in these fresh wind conditions.
Also scoring very well were current World Champions Enno Kramer and Ard Geelkerken from the Netherlands. They opened with a third place, then improved with a second place in the second race.
To complete a formidable trio of current or former World Champions at the top of a very competitive event, former World Champions the brothers Jorgen and Jacob Bojsen-Moller, from Denmark, lie in third overall.
The depleted fleet in the second race meant opportunities for those who remained, and for instance Germany's Jan Lechler and Jens Salow took an eleventh place in the second race after opening with a 19th place.
"Championships are meant to be challenging; this was true Championship sailing", said Austria's Philipp Zingerle.
Racing among this international gathering from eleven countries worldwide will continue tomorrow with another two races.
---
Tanit wins Round Ireland Race
In recent years Tanit has been effectively an ex-Clyde boat, the owners taking the view that basing her on the South Coast and doing a season of carefully selected high profile events is the best value in terms of racing quality versus time expended etc. However many congratulations to co-owner Richard Harris and his team, rich in Scottish talent for their overall win in the Round Ireland race. It's a race that many of us Clyde softies might actively avoid but Tanit, with some gruelling Fastnets behind her is a tough old bus and they certainly can make her go.

---
Tobermory Race Part 2
I reallly only mention this because I agreed to have Troikka as the finish boat at Tobermory - since we were cruising in the general area anyway. It was a good fast race from Ardfern setting off at around 7am. We were just about caught out by the fast passage time as the first two yachts were arriving as we were attempting to lay the finish line but we managed to record times for all 8 starters. It was remarkable just how close the finishing times were with Lucky Ned Pepper crossing the line just seconds after Celtic Spirit in a 7 hour race. Times in class 4 were also close with Clive and Flora Reeve's Lyrebird consolidating their place in the inshore championship ahead of Halcyon and Aquaholic. Pictured is Angus Scott and family on Torridon, David Robertson's Stargate and the irrepressible Stewart Watson's Oran Na Mara.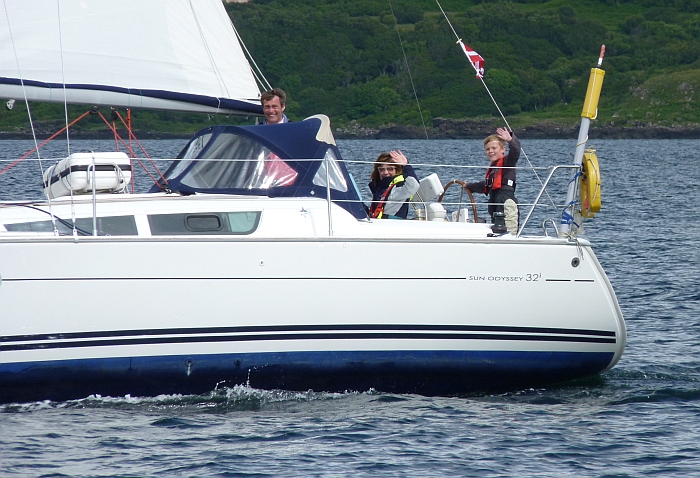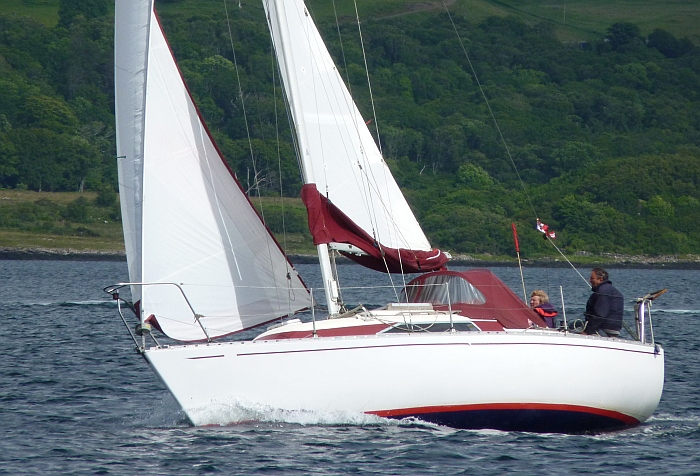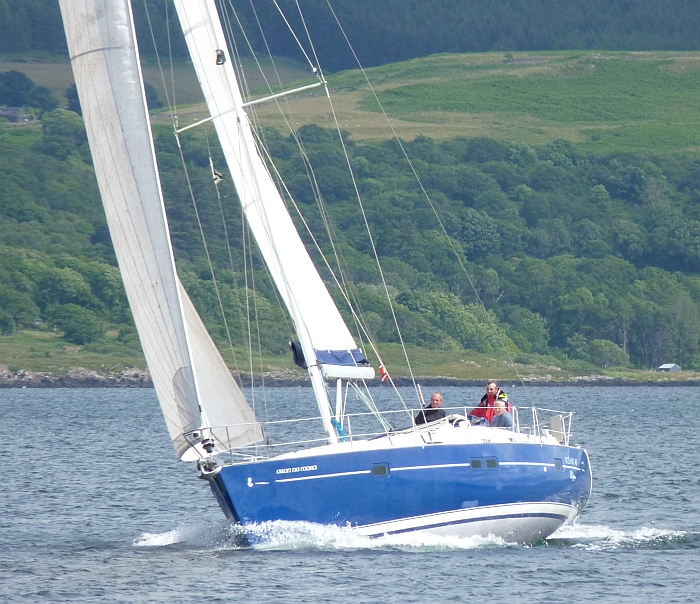 Those venturing on to Tobermory were just over half the entry for Part 1 (15 entries) where of the two IRC class1 contenders, Chris Harvey's Dehler 36s actually finished ahead of Sloop John T while in IRC2 Bill Mackay's Lingo of Troon comprehensively trounced Liaison and Enigma. On the Clydesailing Facebook page some have wondered if this once massively popular race could be revived. It is certainly a race that is eminently suitable for all manner of family cruisers. Presumably it would have to be opened to all comers not just CCC members.
---
West Highland Week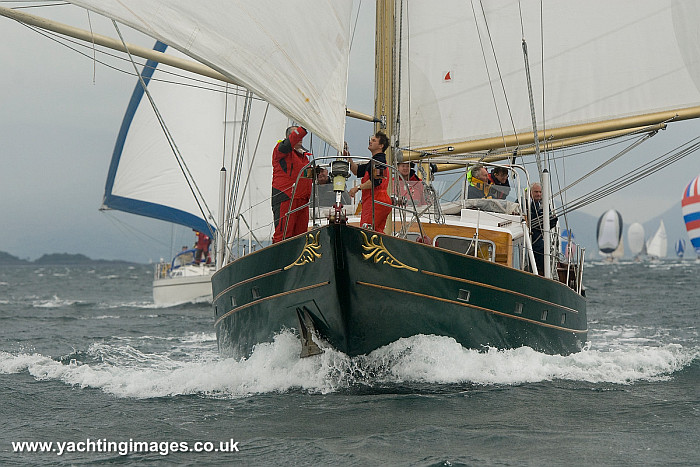 (C) Yachting Images
Those venturing out for West Highland Week this year need have no fear of having the mighty Glenafton bearing down on them and taking their wind and daylight. Like so many others she is not entered - 71 entries must be a record low - at least in living memory. Perhaps the Commonwealth Games and altered calendars has muddled things up and this is a temporary glitch. Let's hope so. For those who are there it's sure to be an exellent week as always. Sunday's first series race is a Round Shuna affair which we see has Carmen topping out Thrust - the brilliant little Oban based Stephen Jones rocketship in Class 1 whilst at the other end, Alison Chadwick in her little Sadler 25 'Hot Toddy' has taken the class 8 race. See all results on
www.whyw.co.uk
---
At anchor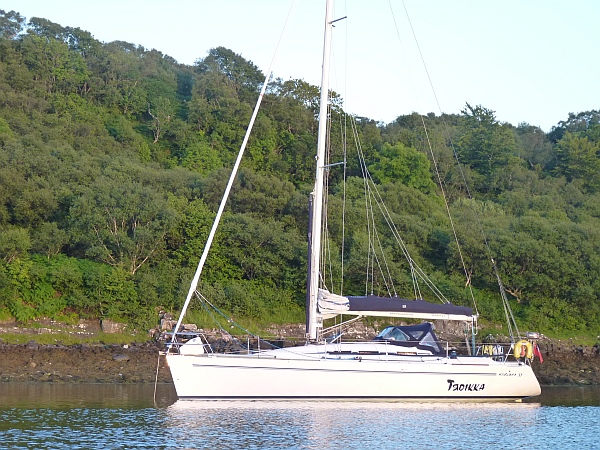 Did I mention we were cruising? Perhaps some of you can guess the anchorage. In the picture you can see the final cruising indignity - the stackpack or lazybag as its maker Sally of Jessail calls it. At least we're not so lazy as to leave the main halyard still attached to the head of the sail when it is stowed. We have come across a number of vessels, mainly charter boats I think, whose skippers seem to think that is acceptable and that to have a loose main halyard frapping on the mast all night is somehow not Unbelievably Inconsiderate and Grossly Unseamanlike. Even if you really don't want to take the halyard off it is not difficult to tie a line to the shackle and run it down to the foot of the mast or somewhere in order to allow the halyard to be tensioned. It would be good if charter companies would tell their clients to do this.
---
Barts Bash for Clyde Yachts


For those of you have been away on the Planet Zog and have not heard about Bart's Bash this is what it is:
The inaugural Bart's Bash is a sailing race that will be run by sailing clubs all around the world on behalf of the charity, the Andrew Simpson Sailing Foundation. Each sailing club will sail an individual Bart's Bash race at their location (with certain set requirements to meet our world record criteria) on Sunday 21 September 2014. It is the major fundraising event for the Foundation and we are asking people to raise money to support our charitable work. It is for this cause that we are suggesting people could pay a £5 donation to take part.
Now initially the idea was that the aim of Barts Bash would be to create a world record for the biggest dinghy race ever but it quickly became extended to include yachts. For any given race to be valid, the Barts organisers require at least 25 entries. Some of us on the Clyde reckoned that it would be a shame for Clyde yachts to miss out on this global event which will undoubtedly generate national publicity . Hence at a meeting of volunteers from a good representation of the larger Clyde yachts clubs it was decided that there should be a combined Barts Bash for Clyde yachts and that it should be run by Royal Gourock Yacht Club on the Mid Firth patch and with a shore start and finish. The advantages of this are that it gives good shoreside exposure, is reasonably located for those coming from other locations and the shore platform gives a good base for the race management. Generally speaking, the dinghy clubs will do their own things at their own clubs - also some of the dayboats eg the HLSC Pipers & FFs.
However, although taking place from the RGYC location this is a joint club affair. How do you take part? Well the Clyde clubs which have registered thus far are Royal Northern, Royal Western, Cardwell Bay SC, Royal Gourock, Holy Loch SC, Fairlie Yacht Club and Largs SC and all of these have a mini presence on the Barts Bash website As a member of one of those clubs you would go to their
microwebsite
(
HLSC example
) and place your entry. You will therefore be registered as racing in your own clubs race and your club will collect the entries and donations from their own members. On the day the race entries will all be combined into one big list at RGYC and the race started. The race will be run under CYCA handicaps, all boats must have £2M 3rd party insurance and comply with the usual racing regulations. It is expected that the race will be run around the fixed marks on the Mid Firth patch and will require volunteers who are not club members to observe and check that the Guinness record conditions are being met.
If you are NOT a member of a club and would like to take part, any of the clubs will welcome an enquiry from you. You can at least expect (and will need) temporary membership and you should be able to see why joining a club is a good idea anyway. The clubs will be able to advise you on how to get a CYCA handicap (it's easy on
cyca-online.org.uk
) and should you wish it there is the possibility that one of their members may volunteer to come aboard to help you get round the course safely - and help you see for yourself what fun yacht racing can be. You will need 3rd party race insurance even if it is only for the one day. If you are a member of a club that is not listed above then any of those clubs will accept your entry or else get your own club to register for itself.
It should be stressed that we see this as a FUN event for charity and to promote sailing locally. The 2014 Clyde racing programme will be all but over by then and all who participate will have nothing more to prove this year. That is not to say that the experienced racers will not be going for it as usual but the key objective is to get as many boats as possible out on the water off Gourock and if there is sufficient interest we can run a separate class for beginners. We also envisage racers volunteering to take out inexperienced people to give them a taste of racing.
What if you don't have and don't want race insurance? Well your boat can't take part in the race but the Barts organisers have given their blessing to the idea of a Barts Bash Cruise. Once all the racers have started it would be possible to let cruising boats off on a cruise around the course - without timing or scoring naturally - it's not a race for you and while having entered for the cruise and paid the donation you would be listed as a participant in the event you would not be part of the Guinness Record scoring. It would also be essential for you to know the basic give way racing rules so that you didn't impede any racers should you come across them.
The Notice of Race is not out yet and you can read all that there is available so far on the
Barts Bash website
(also on Facebook/twitter). But mark the date -
Sunday 21st September
- it can be a dodgy period weatherwise but we can only hope it's good. A big entry with advance promotion might help regenerate some yacht racing interest in advance of the Clyde boat sales extravaganzas in October and at the very least might inspire or facilitate some people to take up crewing.
Discussion and suggestions all welcome.
---
2014 IS THE 25th ANNIVERSARY OF LARGS REGATTA WEEK AND THE MARQUEE IS BACK!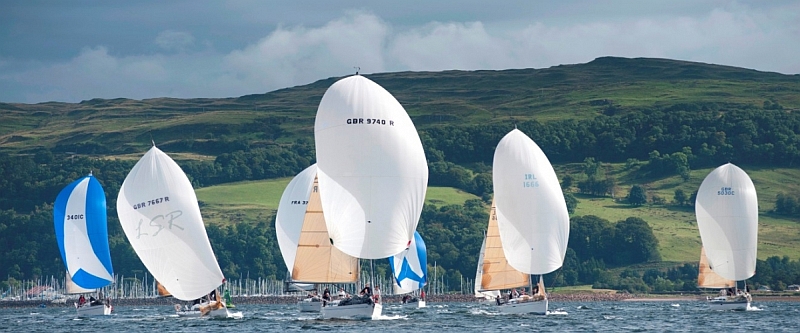 As if you didn't know Largs Regatta Week is a week of racing hosted annually by Largs Sailing Club, Largs Yacht Haven, Fairlie Yacht Club, the Scottish Sailing Institute and generously sponsored by PEELPORTS.
The event consists of racing for dinghies, catamarans and keelboats, including:Cumbraes Weekend, with round the cans racing on Saturday, and the Round Cumbraes race on Sunday, the evening 100 Guineas Series and culminating with the Scottish Two Handed Race for Yachts plus the Hems Kalis Dinghy Series.
This year's event runs from 23 – 31 August and has a much bigger social programme to celebrate this special year.
Socially the opening weekend will relive the glory days of the regatta marquee with the brilliant Ragaels band playing in the evening, alongside a hog roast (doing backing vocals maybe?) for hungry sailors after racing. All competitors and berth holders are welcome to come to toast the 25th event.
The mid week evening racing will again have the support of John Highcock of Saturn Sails doing sail trim analysis (with a difference) and on Friday 29 August the Scottsih themed regatta dinner will be enhanced by the after dinner speaking by Dominic McKay, Head of Communications with Scottish Rugby Union, as well as seasoned Two Handed sailor in previous Largs Regatta Weeks.
The event concludes with the famous brunch for the Two Handed Race competitors as well as the prizegiving for Yacht and Dinghy of the Week.
So check out the dedicated event website
www.largsregattaweek.co.uk
- where you will find the NOR and sailing instructions.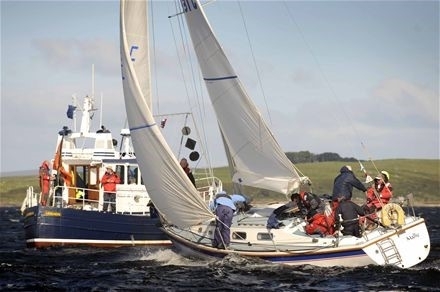 ---
Cove Regatta
A wee club that always tries hard to put on a good event. Many good times in the past and this year it looks like the recent past record of rotten weather will be broken. On a good day it's a grand day out and well worth going ashore.. Alan Devenney writes:
We are offering the usual long "coastal" race on the Saturday for all classes while Sunday is the Classic One Design Regatta. We have quite a lot of entries so far and with a reasonable forecast, we hope that it will be a good event. Entry forms and the NOR are on the CSC Website.
We have two good bands booked for the Saturday night and some visitor moorings are available.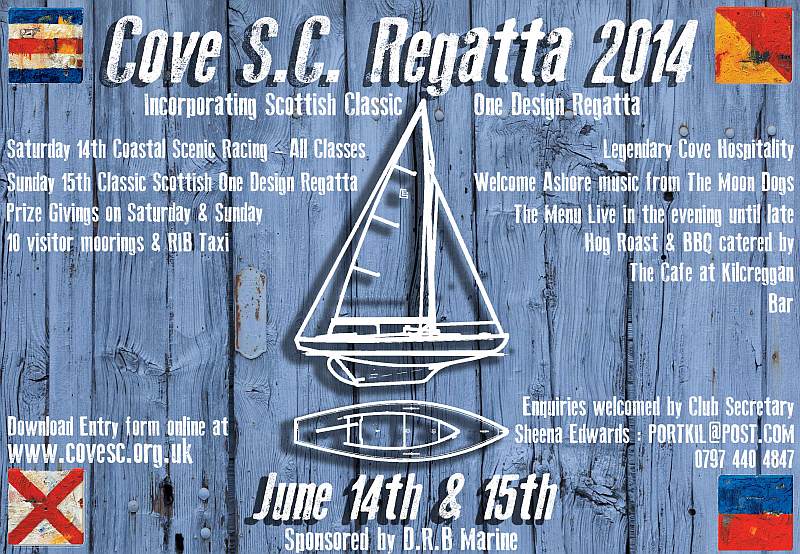 ---
CCC Arran Trophy
And for those who'd rather have a longer course you could do the CCC Arran Trophy race from Kip to Rothesay taking Wee Cumbrae to starboard. You would get to see a bit more of Arran than from Cove that way so maybe that explains the name.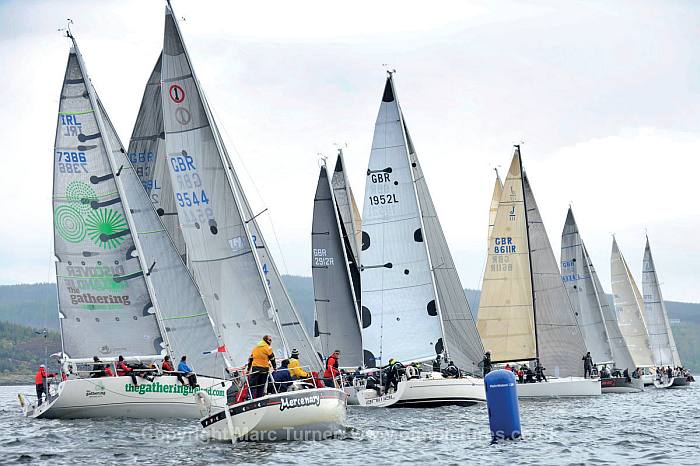 Meanwhile the Serpent YC will be having a race from Rothesay to Portvadie and the Isle of Bute SC will be doing their Round Bute race. A busy old weekend on the water.
---
Old Pulteney Regatta incorporating Scottish IRC Championship
We kind of missed this one having been away but day one looked pretty missable from where I was lounging. 16 entries all told which isn't too impressive although the IRC fleet was depleted by the absence of the Comedy Cup boats. Good to see a bunch of Etchells prising themselves out of Gourock for the day too. Below is Fional Holland's account of day one but if you
look at the results
you would see that the order in IRC changed a bit with Murray Findlay driving Roxstar to top of the heap.
I
ncorporating Scottish Championships for both the IRC and Etchells One-Design, it turned out to be very much a case of making the best of a particularly shifty weather bag, with Neill Sandford's Now or Never 3, the MAT 1010 in IRC1, living proof that you don't need to be first to rise to the top.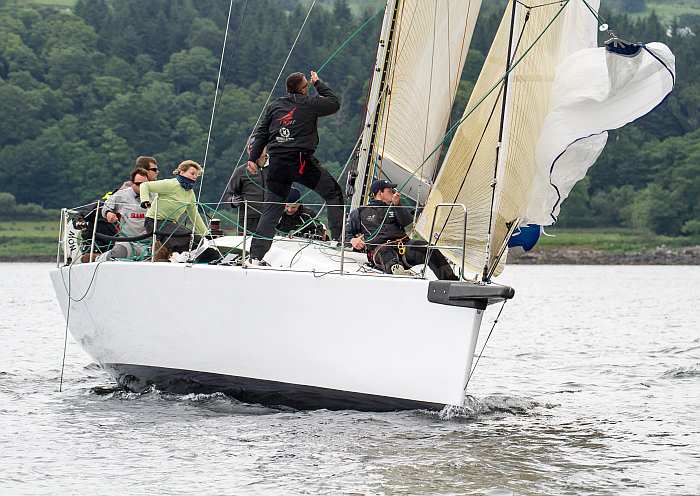 After two races, Sandford and crew had taken a third in the first encounter and a second in the second, to edge ahead of former Scottish IRC champion Sloop John T, the Thomson brothers' Swan 40 - Sloop, too, bagged a second and third. No doubt rather frustrating for the two race winners - respectively the Findlay/Anderson XP 38 Roxstar and John Stamp's J-88 Jacob.
At the top in the combined IRC2 and CYCA fleet, though, Howard Morrison's veteran campaigner Sigma 38 Enigma, did manage to sail away with two very emphatic first places to lead the classes at the end of day one. Team Enigma did not appear to be pushed particularly hard either over the water or on corrected time, and looked comfortable at the head of these fleets going into day two.
The intention had been to set three races on day one, but the constantly shifting breeze put paid to the best efforts of the race committee, and the sailors for that matter, in what could politely be termed, a moveable feast - two races were, indeed, a bonus.
For the first time, the event has incorporated the Etchells One-Design Scottish Championship - a welcome addition to this diversifying regatta.
Veteran Clyde campaigner Geoff Howison - well known for his long stable of Local Hero yachts and his Etchells continues the trend - rose to the top of the day's first encounters, putting a clear minute and a half margin between him and the Cowie/Campbell owned Mayhem in second place.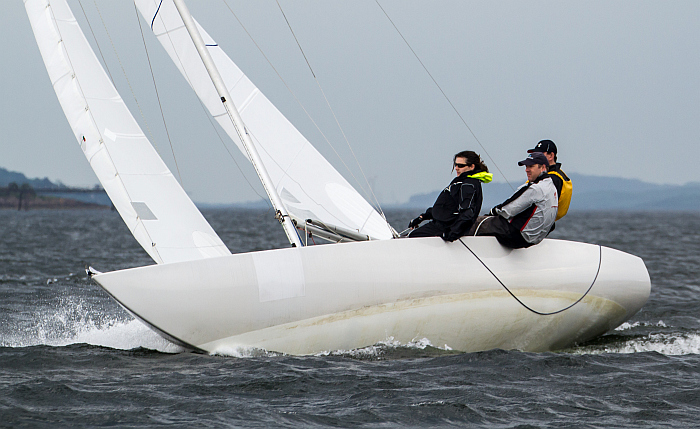 But Mayhem took the honours in the second, for a good minute win over Defiance, owned by Stuart, Tom and Ross Lang, while conditions took their toll on Local Hero, which retired.
Results day one Old Pulteney Mudhook Regatta (inc Scottish Championships for IRC and Etchells One-Design), Clyde
IRC1 race one - 1 Roxstar (Findlay/Anderson), 2 Sloop John T (I&G Thomson), 3 Now or Never 3 (N Sandford); race two - 1 Jacob (J Stamp), 2 Now or Never 3, 3 Sloop John T; overall after two races - 1 Now or Never 3 5 points, 2 Sloop John T 5, 3 Jacob 6.
IRC2 race one - 1 Enigma (H&M Morrison), 2 Serenity (Park/Guthrie); race two - 1 Enigma, 2 Serenity; overall - 1 Enigma 2 points, 2 Serenity 4
CYCA race 1 - 1 Enigma, 2 Rajah (R Summers), 3 Zebedee (Wilson/Downie); race 2 - 1 Enigma, 2 Serenity, 3 Rajah; overall - 1 Enigma, 2 Rajah, 3 Serenity
Etchells One-Design race 1 - 1 Local Hero (G Howison), 2 Mayhem (Cowie/Campbell), 3 Gelert (M Allen); race 2 - 1 Mayhem, 2 Defiance (T, S and R Lang), 3 Gelert; overall - 1 Mayhem 3 points, 2 Gelert 6, 3 Local Hero 7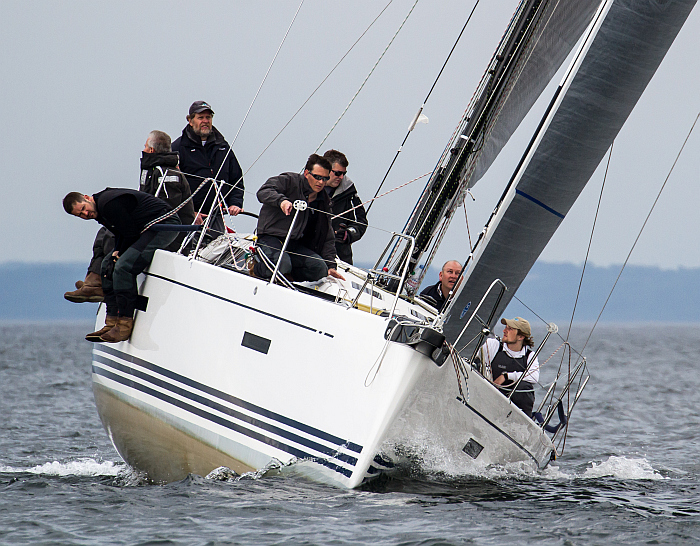 ---
Silvers Scottish Series - 40th Anniversary
Marc Turner - PFM pictures
It was good to see a resurgence of Sonatas at the 40th Scottish Series. As Troikka was chugging off to Campbeltown on the Monday Anne suggested the top prize might be go to the Sonatas. Nah said I. In this Commodore's Cup year they'll give it to IRC 1. So well done to Murray Caldwell & Co for pulling that one off and well done also to Mark Bradshaw and his gallant lads for giving them a hard chase.
Marc Turner - PFM pictures
As some of you perhaps know Troikka was in Tarbert to be accommodation boat for the Sonata 'Whisky Chaser' that Chas has been seen on recently but as that all fell through for various technical, crew and logistical reasons we decided to put ourselves up for the Inchmarnock race at the very last minute. And it was ok. A good big fleet and a more brisk sail than the forecast suggested but not massively interesting.
Having until recently been a regular attender since the Rover Series of 1992 it was inevitable on revisiting for the 40th that comparisons be made with ye olde days when the place was full of Irishmen and the harbour stacked almost wall to wall with race boats rather than the rather tired looking cruisers that seem to make up much of the present Tarbert pontoon population. The organisation was certainly as professional as ever and the enthusiasm of the organising team could not be faulted but there is no getting away from the fact that the regatta is not what it once was. Many of the same faces we used to see back in the nineties are still there but most of those now sport grey hair if indeed they have any at all and there does not seem to be much of an influx of younger people. Maybe twas always thus. I don't know. Sadly, I am now of an age where late nights in the tent have lost their appeal and like so many others I just seek an early night. Can't even stay up until the band plugs in.....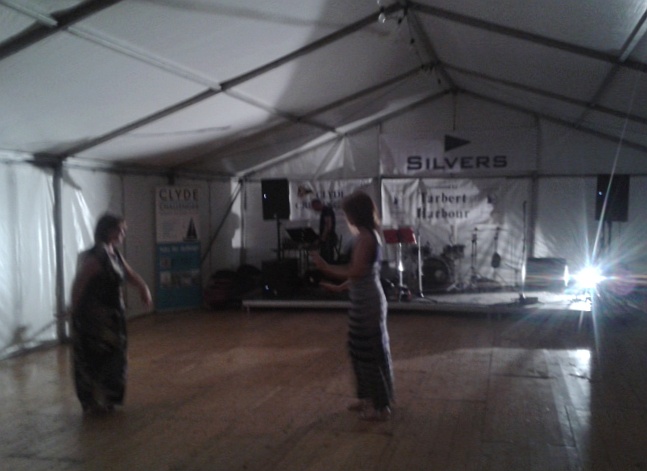 It does seem to me that the short course racing of performance cruisers never mind full on race boats is in very serious decline. Maybe it's a cyclical thing and top level always was very expensive but especially in the present climate, running a competitive boat in IRC, especially one over about 30 feet is out of the financial reach of all but the weathiest. You can drivel on for hours outside the Corner House on this selfsame subject but no practical answers are likely to be still around when the hangovers wear off. Hence the Sonatas. 30 years on most of them are a bit the worse for wear but they provide affordable racing if not pumping raw excitement.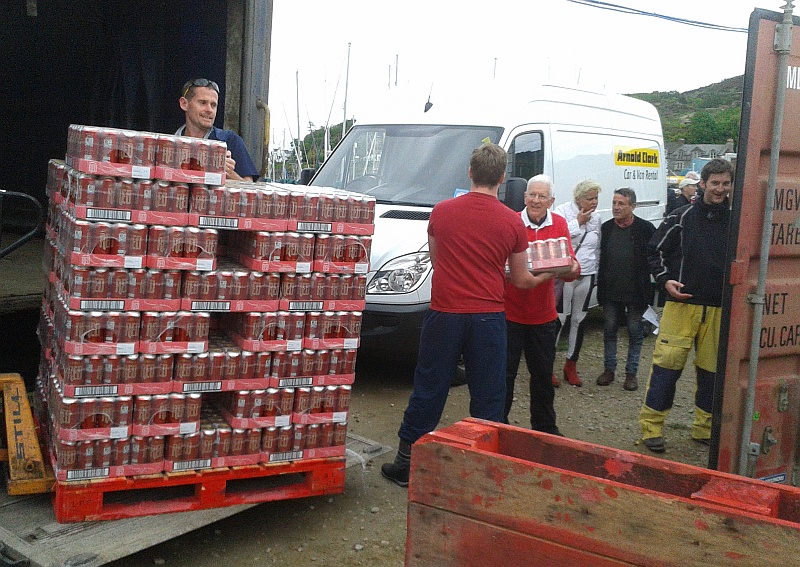 Free beer is not something anyone sees much of these days and the return of red cans also prompted nostalgia for ye even older days when it was the McEwans Scottish Series. Sadly, and this is just a personal observation from a real ale afficionado, McEwan's Red is never likely to be anyone's 'best buy in beer' (or even when given away free). Similarly, we were a bit miffed to find when we turned up at the tent on time clutching our free drink tickets that the free gin was finished. Already! we cried. How? Since I didn't get any I can't remember what it was called so there's a marketing opportunity lost.... (Once more, supply of a free bottle will result in profuse advertising here. Clydesailing comes cheap).
Anyway enough negative moaning. Those plastic moulded toilet and shower cubicles are way better than the old portcabin type things and it was a great event despite the gloomy predictions from some. I would think the 41st Series will carry on (in the UK hopefully) because where would we be without it. Mark Turner has excelled himself with his photography and you can scan through his huge series of images on his website
PFM pictures
. You all know by now where the results are.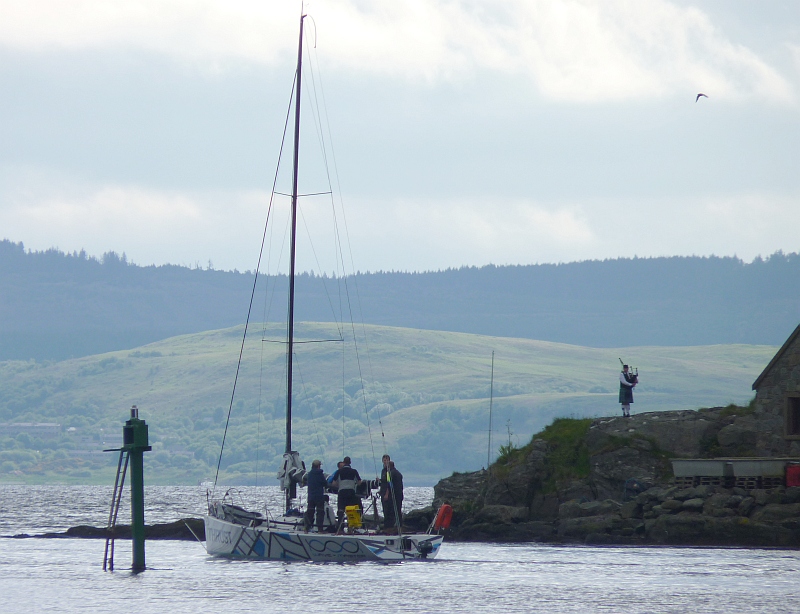 ---
West Highland Week
Reminding us all that Scottish Series is not where it all begins and ends, Alison Chadwick sends a new press release lest we forget the changed dates of WHYW. Both photos courtesy Ron Cowan- Yachtingimages.co.uk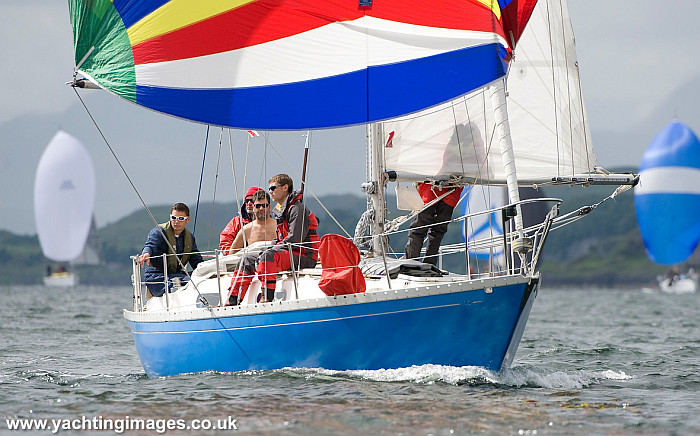 photo: Ron Cowan
PLANS for West Highland Yachting Week (WHYW) in this special year for Scotland are going well and competitors are reminded of the new event dates set in place to avoid clashing with the Commonwealth Games.
Instead of the traditional slot of the last week in July and first week in August, WHYW will take place from July 12th to July 18th 2014 with the major sponsor of the event being Tunnock's.
'We hope this will encourage more yachts to come out for WHYW given the flotilla of sail and small ships race is also planned throughout Argyll and Bute as part of the 'Homecoming Muster'. WHYW and the west coast flotilla journey co-incide nicely,' said WHYW Joint Regatta Chairman David Waltho.
And the JRC hope this year's new format of two day's at Craobh Marina will also work well.
The new Loch Melfort Race which starts the points series at this year's West Highland Yachting Week will circumnavigate the island of Shuna off Craobh Haven twice. The fleet starts off Craobh Marina on Sunday July 13 after the mustering of the fleet on Saturday.
Depending on wind direction the fleet will either race clockwise or anti-clockwise round Shuna. The first course sees the fleet head through the small islets of Eilean Creagach and Eilean Gamhna to a mark off Ardinamir Bay before racing back to Shuna and to marks east of Rubh Ard Luing, Bagh Ban and Culbhaie before heading back to the finish off Craobh. The course marks will be reversed if wind conditions dictate and sailed twice round which will be around 23 miles long.
The second night at Craobh is set to be a popular one with the fleet with everyone coming together for the apres sail ashore being hosted by the Lord of the Isles (LOTI) and Craobh Marina. There will be a host of entertainment for all the fleet and the usual feast of fayre at LOTI and fireworks will make this a special occasion with a few surprises also guaranteed.
Monday sees the fleet head to Oban on the usual Craobh to Oban Passage Race racing north through Fladda and Insh. On Tuesday the fleet splits as usual into the Tunnock's and Argyll white sail fleet with the Tunnock's spinnaker boats racing and Olympic style Round the Buoys course and the Argyll Fleet an inshore race in the Firth of Lorn. Wednesday sees the fleet head to iconic Tobermory, the much loved venue for the second part of the event. Thursday is the traditional Round the Buoys for the Tunnock's fleet with the inshore race once again for the Argyll restricted sail fleet.
Yachts race back to Oban on Friday July 18 and this year the prize-giving dance will be held in the Argyllshire Gathering Halls.
Further information from www.whyw.co.uk and with entry forms now online. Contact telephone number for WHYW is 07501492772 See also www.facebook.com/WestHighlandYachtingWeek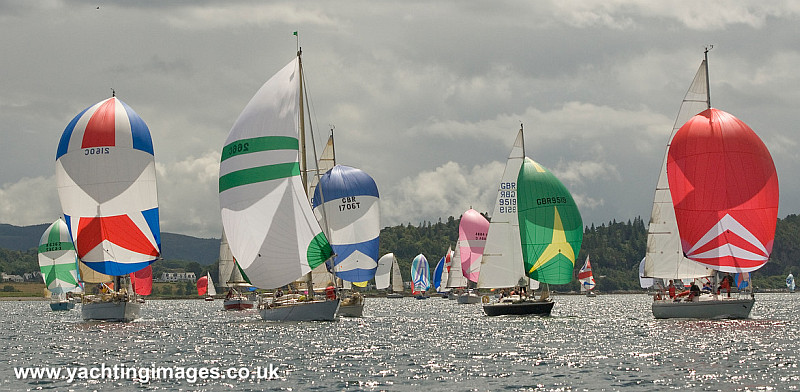 Ron Cowan
The second night at Craobh is set to be a popular one with the fleet with everyone coming together for the apres sail ashore being hosted by the Lord of the Isles (LOTI) and Craobh Marina. There will be a host of entertainment for all the fleet and the usual feast of fayre at LOTI and fireworks will make this a special occasion with a few surprises also guaranteed.
Monday sees the fleet head to Oban on the usual Craobh to Oban Passage Race racing north through Fladda and Insh. On Tuesday the fleet splits as usual into the Tunnock's and Argyll white sail fleet with the Tunnock's spinnaker boats racing and Olympic style Round the Buoys course and the Argyll Fleet an inshore race in the Firth of Lorn. Wednesday sees the fleet head to iconic Tobermory, the much loved venue for the second part of the event. Thursday is the traditional Round the Buoys for the Tunnock's fleet with the inshore race once again for the Argyll restricted sail fleet.
Yachts race back to Oban on Friday July 18 and this year the prize-giving dance will be held in the Argyllshire Gathering Halls.
Further information from www.whyw.co.uk and with entry forms now online. Contact telephone number for WHYW is 07501492772 See also www.facebook.com/WestHighlandYachtingWeek
---
Painting a Youthful Picture at Scottish Series

Silvers Marine Scottish Series will be celebrating 40 years this weekend 23 – 26 May 2014 and it is hoped that 100 boats will participate in this well-known Clyde Cruising Club Yacht Regatta. The event may be mature but not so for all the competitors. Hempel Paints will mark the involvement of the youth sailors giving recognition for the depth of talent across the classes and presenting the acclaimed Crawford McInnes Trophy.Many young participants are attracted to this particular event to improve and develop their skills in keelboat racing. This may be the first opportunity to make the transition across from dinghy sailing to the larger keelboats and skippers, families and friends provide young enthusiastic sailors with this chance. There will be some very talented youth sailors bringing with them a wealth of experience and energy, who have been brought up within the sport sailing on family yachts or have had access to coaching through local sailing clubs and RYA Scotland's development squads.
Hempel Paints, who are no stranger to this event, are very proud of their involvement ensuring that the youth sailors (under 25) helm or crew who, in the opinion of the Race Committee, has given the best performance of all eligible competitors in the Series will be awarded with the prestigious Crawford McInnes Trophy.
With only days to go to Scotland's most renowned sailing series, social media feeds are getting busy and can be followed for regular updates throughout. Twitter (@ScottishSeries) and Facebook (Scottish Series) will signpost you to all you need to know and share wonderful images of the sailors in action.
---
Round Mull Race - 27th June

We have to get the Silvers Scottish Series done and dusted first but here is advance warning of the Round Mull Race. 'Entrants are advised of the arduous nature of this event around an exposed rocky coastline.' Makes a change from poncing back and forth around a pair of inflatable buoys though. I went as invited crew on Ataraxia last year and enjoyed it despite struggling to keep the gastric contents inside when round the back of Mull. Recommended. The
NOR
and
entry form
are here - they were emailed out, bizarrely, as a Powerpoint presentation but I have fiddled to make them more or less web-friendly. It's all done by post anyway and
Billy Forteith
is the man.
---
More Kip Regatta -
This comes from the Savill's PR person via Marc Turner - a bit of regatta history.
The Kip Regatta celebrates its 25th Anniversary in May this year - a marriage, between Kip Marina and Royal Western Yacht Club, that has successfully stood the test of time.Throughout the years Kip Regatta has partnered with a variety of sponsors, and is currently enjoying a long relationship with property company Savills.
Starting life in 1989 as The Kip International, named after its first sponsor International Paints, the Regatta has seen many changes over the years . Always following the One Design format (with similar boat models competing against each other), there were many changes ahead including CHS handicap being reinvented as the IRC in 1999, sailing courses changing format, and three day races becoming the norm.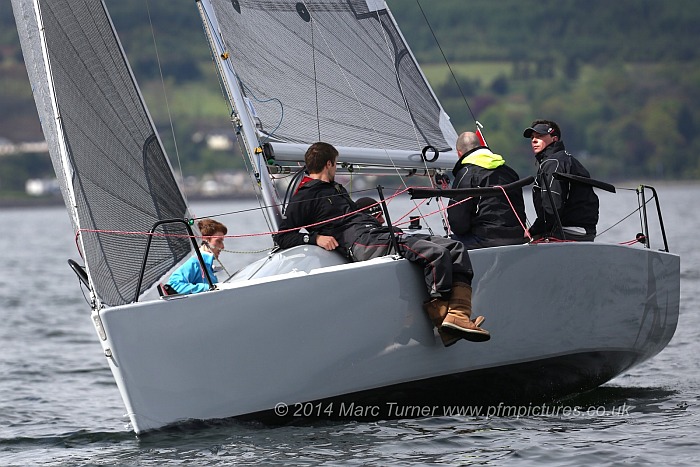 1989 saw the three handicap classes at the start line: IODs , Pipers , Loch Longs and Etchells. By1994 the Regatta had reached a mammoth ten classes and a new sponsor, Mount Gay Rum, provided their famous red caps, which can still be spotted at sailing events across the globe.
Further One Design classes were introduced over the years, like the Sigma 33 , 38, and the infamous Sonatas and Sportboats. All added to the fleet size and combined to make the Kip Regatta a popular fixture in the Scottish sailing calendar, and the first 'major' regatta of the season.
Some boats have become notorious, including By the Way, Bullet iv, Toucan, Showdown, Chorus line, Arthur, Local Hero , Playback ,Crackerjack and Salamander .
From Royal Western's point of view, the reputation of Kip Regatta was building year on year, and in terms of attendance, it was becoming more popular than their famous Tighnabruaich weekend.
In 1997 Royal Western introduced one of the club's most prestigious pieces of silverware the A W Steven Trophy . This was to become the most sought after prize on the Clyde as it was presented to the best overall performance from all the classes, and was awarded for the first time to the ½ tonner Sagacious.
Into the 21st century and Kip Regatta was proving as popular as ever , with 11 classes and over 70 boats on the water. The IRC Handicap classes 1 & 2 attracted the biggest numbers, with 21 & 17 boats respectively, but a healthy Sigma 33 class was still around with ten.
2000's overall winner was Allan Marr with his Etchells Flying Colours, and from then onwards the awards ping-ponged between Donald Sharps X-332 Tundra and John Corsons Elan 333s "Salamander", until 2006 when Graeme Hutchison came along with the mighty Jaru and Opal Marine became the principal sponsor.
2007 brought our current sponsor and the Savills Kip Regatta was born. Savills West Coast Director Andrew Perratt, a keen local sailor, saw an opportunity to promote the company name to a wide and growing audience . His "Grand Cru" team has participated at every regatta since, but to date has always allowed another competitor to take the title!
Another "local hero" the Bashford 41 took the overall trophy in 2007, skippered by Geoff Howison , while Keith Lord brought Acrewed Interest up from the Isle of Man for the 2008 title.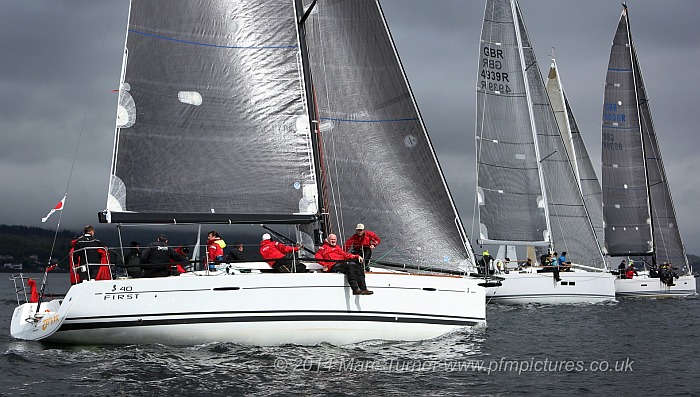 2011 saw Jim Dick begin his winning streak in Scotland, with the J-97 Jackaroo. Another popular win came the following g year when Chris Bonar took the title, after many years of coming close. He bowed out of the Clyde circuit on a high, selling his winning Baleteur 97, and moving abroad.
Duncan Chalmers Of Kip Marina said: "The event has traditionally been the testing ground for new race boats, and an opportunity to allow crews to ready their boats and put systems in place, under true race conditions. Our plans for Savills Kip Regatta are to keep this successful formula, ensuring the classes remain ultra-competitive, and growing the event.
"While the IRC and CYCA classes will remain to the fore, there are many opportunities development. We are continuing to expand the CYCA and white sail fleets, and will explore opportunities to introduce future One-Design and sport boat classes in future years."
---
Savills Kip Regatta at 25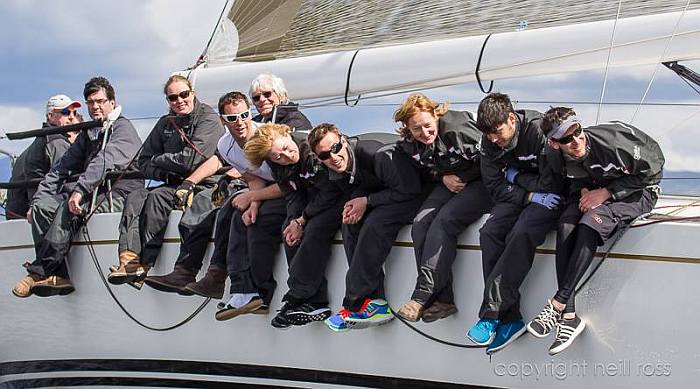 Photo: (C) Neill Ross
The Kip Regatta is traditionally regarded as the warm up for the Scottish Series but this 25th Anniversary edition sailed in the lightest of breezes served best to lull competitors into complacency and a false sense of competence, providing little practice for the rolling billows to follow in Tarbert. Or so says our regular in-house pessimist. Whatever, the weather forecasters got it wrong or perhaps Savills and the Kip marina people between them managed to ensure that the regatta was sailed in a pocket of sunshine while rain clouds scudded by to the north and south. The patch off Kip is renowned for its flukiness and this was manifest straight away as the first beat in the general direction of Toward rapidly turned into a fetch. This was to be a recurring problem throughout the weekend.
The results are here
in case you want to skip the waffle. It was, one might venture to suggest, a regatta for young...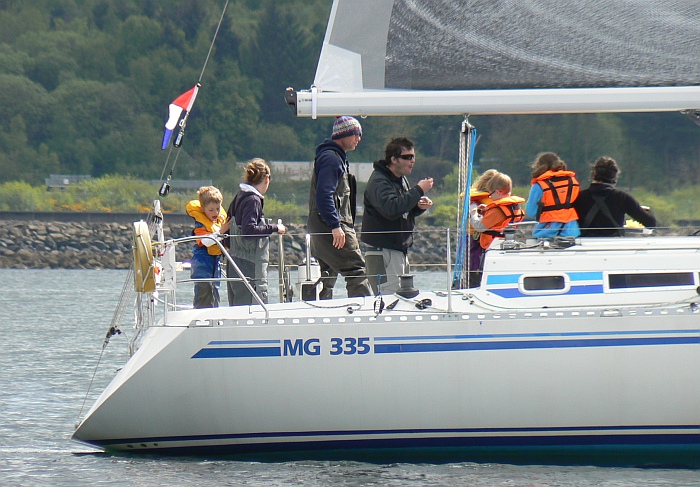 and old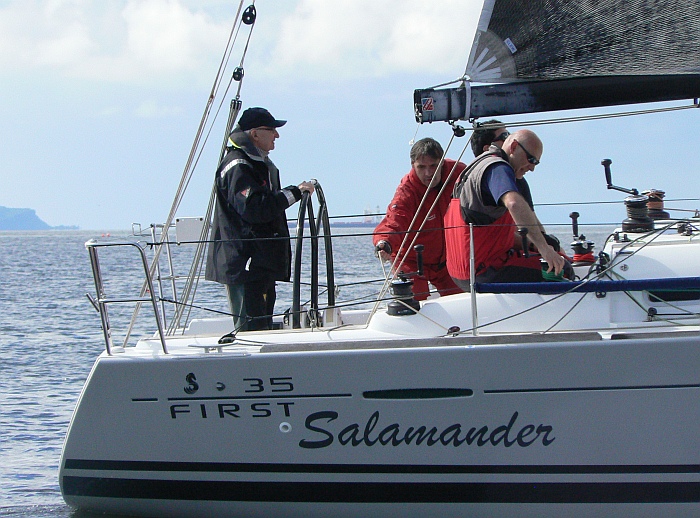 Your correspondent, for reasons not fully understood by himself, was not present on his own highly presentable yacht but was instead masquerading as railmeat on a Sonata which could be described charitably as well past the first flush, rather like himself in fact. However that gave some opportunity for a few photos. One particular feature was the first appearance together of the Scottish Commodore's Cup teams, namely Jamie McGarry's mighty Swan 45, the Eala of Rhu, Steve Cowie's First 40 Zephyr and Rod Stewart's Corby 37, Aurora. You can assess their performances from the results better than I can as obviously they vanished into the middle distance long before the Sonatas got going. I enjoyed this picture of Aurora - (that transom configuration is a Corby trademark -in case there is anybody out there who didn't know) where it is not entirely clear what is going on but it does seem rather busy. Presumably John Highcock (last man standing) has a fair idea.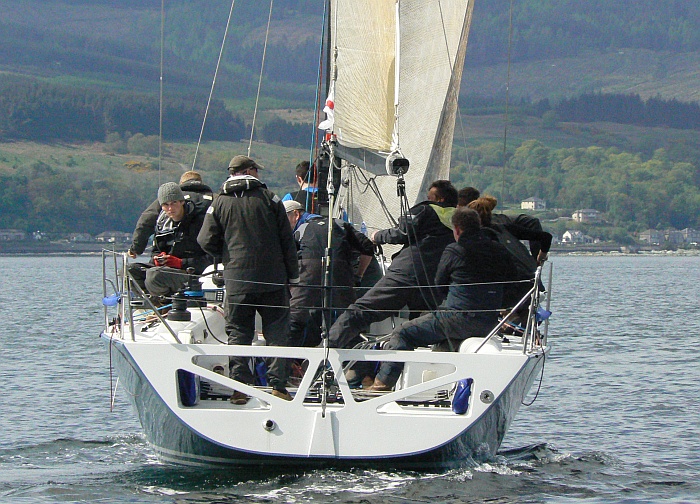 Here is Eala of Rhu and a fine sight she is too, with Jon Fitzgerald calling the shots. I don't seem to have a picture of Zephyr but you all know what a Bene 40 looks like.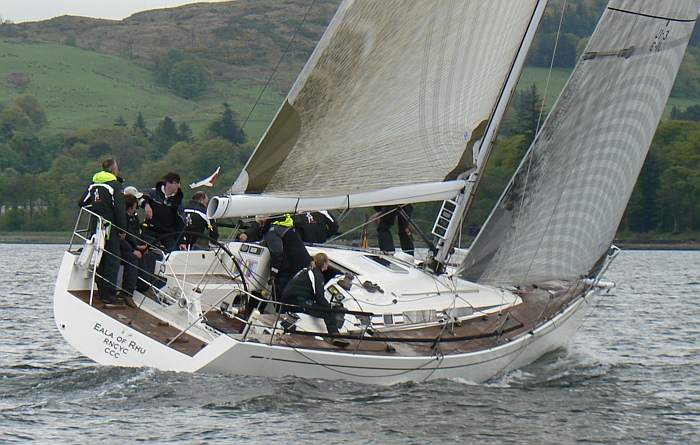 Despite all that fancy stuff however it was those recurrent winners, the Anderson/Findlay partnership in Roxstar which took class 1 and very possibly might have won the overall silver plate if Jonathan Anderson hadn't been awarded it so many times before - or does it just seem like that. I'm afraid that when I see the XP38 I am reminded of Giorgetto Guigaro's famous comment about the Triumph TR7 but there can be no denying the performance the team is extracting from it, particularly in light wind.
Anyway the overall was won by Leaky Roof II, Alan Harper's curiously named Sigma 33 with 3 firsts and a discarded 4th in IRC 3.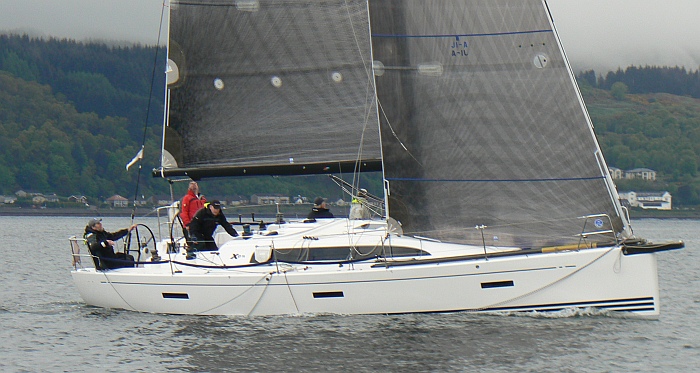 The redoubtable Carmen II team are still very much game, winning IRC2 and now have another First 36.7 to joust with in the form of Kevin & Debbie Aitken's new Animal, the previous one being about to be shooed off to France. It's wearing borrowed Carmen sails for now.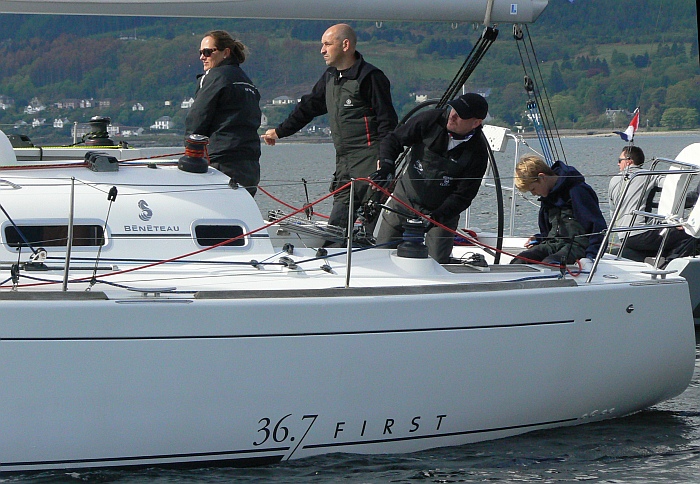 Here's a Class 1 start. The second race on Sat after the first race was stopped after one round was a full length affair which everyone enjoyed. The third race after valiant efforts by the Race Committee to get a decent course was abandoned.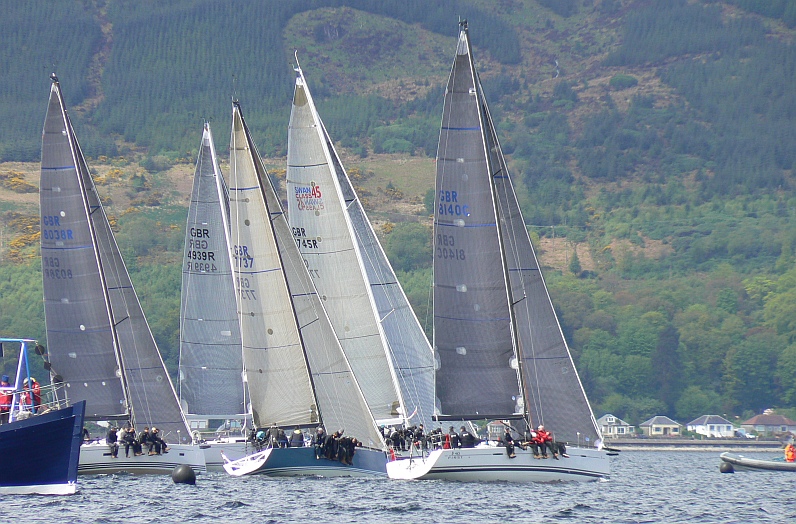 Duncan Hepplewhite organised three Ovington VX1s to join in. They looked quite sporty and a young person I spoke to afterwards said they were great fun - planing in upwards of 8kts allegedly. This is not a great picture of one but it's here to remind us all of the fantastic scenery we are privileged to sail amidst - despite the almost continuous rainfall.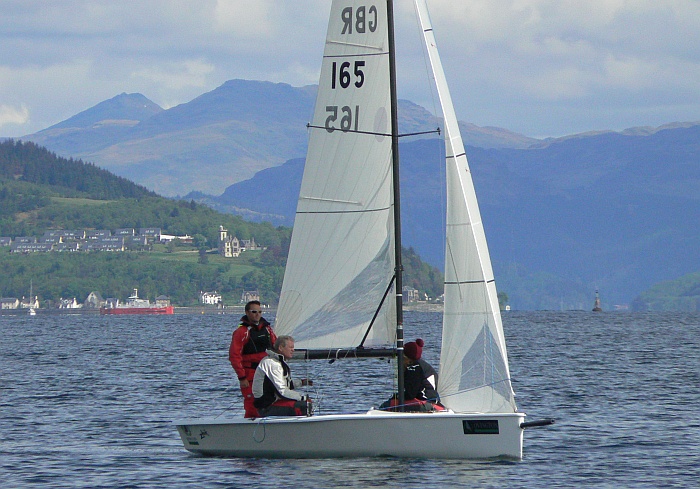 Rather more accessible to the young person, most of whom are more than a little financially constrained, we look to the scrapyard end of the fleet where the Sonatas are to be found. Intentionally crippled by a non-planing hull, those little tubs offer their owners pleasure not from sheer speed but from close one design fleet racing and whatever else may be said, the local fleet is an immensely helpful and encouraging bunch. This is Mark Bradshaw's 'Mostly Harmless' showing what I think is her 'good' side. The resident James Watt Dock Sonatas are not the highest rated in terms of external cosmetics but contributing to the 9 Sonatas out on the East patch on a Wednesday evening cannot be bad. One design or not Mark Taylor's immaculately presented Saraband took huge lumps out of everyone else on the Saturday race and won the class.
Saturday finished in sunshine and a convivial gathering outside the Chartroom where a string quartet was drowned out by the conversational buzz.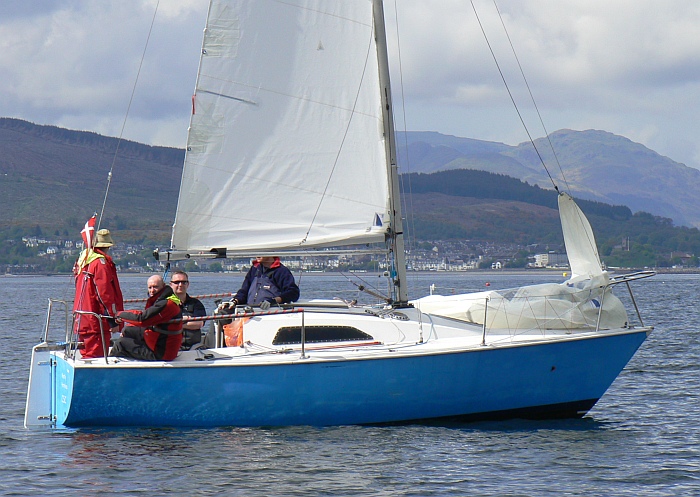 After racing, especially if I have been helming I can never remember what happened. The first race on Sunday was enjoyable but after that rain clouds appeared with accompanying severe wind shifts resulting in the second race being abandoned before even Class 2 has started. Finally a third race was started and I have to be naughty and mention that the venerable and much respected Royal Western Yacht Club is not actually infallible. On approaching the start area for the start of the last class we noticed that AP had been hoisted instead of the expected Pennant 4. This confused me greatly and I did not have the presence of mind to call the Committee boat for clarification. However, just as what was expected to be about 1 minute from the start the AP was hurriedly withdrawn and replaced by No4. No matter, it was a mostly harmless error and we were more or less the right place being only the Mostly Confused third Sonata in the trilogy.
So overall, not the best conditions but astonishingly better than anybody had hoped the day before. Numbers have held up quite well although there is plenty opportunity for a revived CYCA class. Hopefully Savills can continue their genuinely appreciated sponsorshop for the 26th Kip Regatta and much thanks must go to them also to Royal Western YC for their good organisation of the event and to Kip Marina for their part.
Unfortunately I was too late to try the gin which was on sampling offer after Saturday's racing. Made in a converted dog kennel apparently but those fortunate enough to taste it proclaimed it excellent. Also unfortunately I have forgotten what it was called but on supply of a trial bottle I will be happy to post a big advert here.
Now get ready for some really windy sailing at the Silvers Scottish Series.
---
Kip Regatta - 25th Anniversary Edition
Here's the entry list as of Friday morning. Encouraging that numbers seem to be holding up including .. da da.. The full Scottish Commodore's Cup Team. Final class splits to be determined.
| | | | | | | | | | |
| --- | --- | --- | --- | --- | --- | --- | --- | --- | --- |
| Boat Name | Country | Sail No | Suffix | Boat Type | Start | Type | Class | CYCA | IRC |
| | | | | | | | | | |
| Eala of Rhu | GBR | 7745 | R | Swan 45 | | IRC | | | 1.173 |
| Warrior | GBR | 1429 | L | Archabault A40RC | | IRC | | | 1.093 |
| Aurora | GBR | 7737 | R | Corby 37 Custom | | IRC | | | 1.092 |
| Zephyr | GBR | 8140 | C | First 40 | | IRC | | | 1.086 |
| Roxstar | GBR | 8038 | R | XP 38 | | IRC | | | 1.083 |
| Fortuna | GBR | 4939 | R | Grand Soleil 39 | | IRC | | | 1.061 |
| Grand Cru | GBR | 6969 | T | First 40.7 | | IRC | | | 1.057 |
| Jacob V1 | GBR | 8588 | R | J-88 | | IRC | | | 1.032 |
| Now or Never 3 | GBR | 7667 | R | Mat 1010 | | IRC | | | 1.029 |
| Sloop John T | GBR | 9740 | R | Swan 40 | | IRC | | | 1.028 |
| Salamander XX1 | FRA | 37296 | | First 35 | | IRC | | | 1.022 |
| Carmen II | IRL | 1666 | | First 36.7 | | IRC | | | 1.020 |
| Animal | IRL | 1668 | | First 36.7 | | IRC | | | 1.02 |
| Enigma | GBR | 8272 | | Sigma 38 | | IRC | | | 0.983 |
| Wildebeest 1V | GBR | 1938 | C | Brenta 24 | | IRC | | | 0.947 |
| Significant | GBR | 3892 | | Sigma 36 | | IRC | | | 0.934 |
| | | | | | | | | | |
| Saraband | GBR | 8314 | | Sonata | | CYCA | | 20.00 | |
| Zebedee | GBR | 6731 | Y | Westerly GK 24 | | CYCA | | 19.75 | |
| Farr E Nuff | GBR | 7029 | | Farr 727 | | CYCA | | 17.50 | |
| Stargazer | K | 4203 | | Grand Soleil 34 | | CYCA | | 16.25 | |
| Pure Magic | | 3355 | C | MG335 | | CYCA | | 13.50 | |
| More Misjif | GBR | 5030 | C | Sonfast 37 | | CYCA | | 11.85 | |
| First by Farr | GBR | 9963 | | First 45 FJ | | CYCA | | 8.25 | |
| | | | | | | | | | |
| Mostly Harmless | GBR | 8008 | N | Hunter Sonata | | OD | | | |
| Mojo | GBR | 117 | | J70 | | OD | | | |
| Willpower | GBR | 173 | | VX One | | OD | | | |
| | GBR | 165 | | VX One | | OD | | | |
| Ovington Boats | GBR | 180 | | VX One | | OD | | | |
| Whisky Chaser | GBR | 8213 | N | Sonata | | OD | | | |
| | | | | | | | | | |
| Leaky Roof II | GBR | 4607 | | Sigma 33 | | Sigma | | | |
| Mayrise | GBR | 8857 | Y | Sigma 33 | | Sigma | | | |
| Close Encounters | IRL | 584 | | Sigma 33 | | Sigma | | | |
---
Silvers Marine is New Headline Sponsor for Scottish Series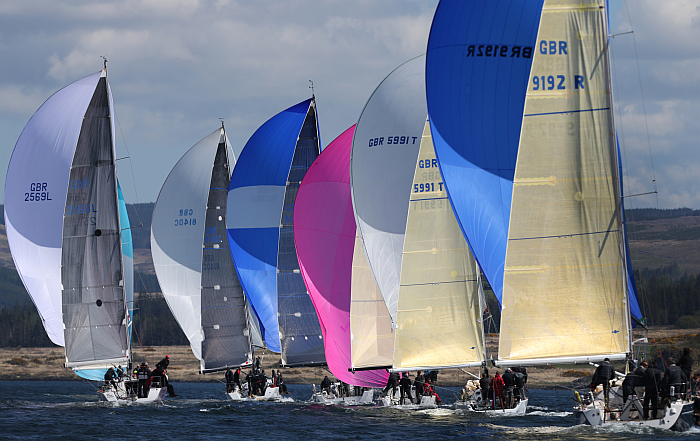 This is great news. Mega credit to Jamie McGarry, the new owner of Silver's Marine for making this truly significant contribution to Scottish sailing. This really identifies a new start for the famous boatyard which now becomes a brand of
Gareloch Support Services
, and emphasises the yard's prominent place in Scottish yachting. GSS, which recently purchased Silver's boatyard as their new HQ is a truly global company with offices in the Netherlands and Australia and which apparently turned over £20m last year (according to the Helenburgh Advertiser).
Jamie McGarry, owner of
GSS Marine Services
,
says
"As a re-launch of the yard and the Silvers brand we are delighted to partner with the CCC in sponsoring the Scottish Series. This is particularly exciting given the 40th celebrations this year in Tarbert. Scottish Series is a magnificent event run by the army of volunteers and club officials from the CCC. To be able to support this and indeed participate in the event is tremendously exciting for all at Silvers and GSS."
---
CCC season starts with Bute Race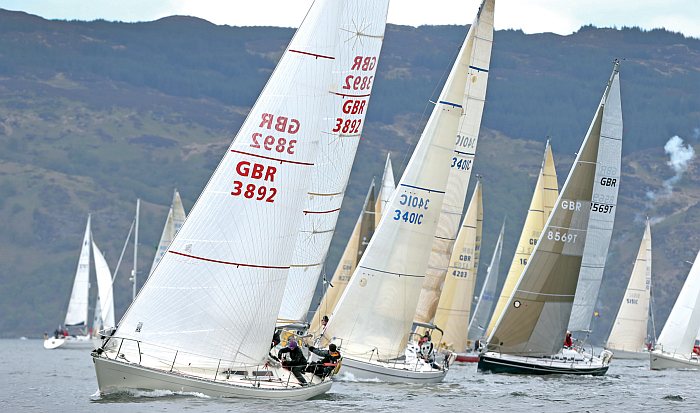 I
Inverkip to Largs circumnavigating Bute on 26th April. A good sail to get the cobwebs blown away since there have been no earlier opportunities to do that - in a racing mode at least. The previous notion of a second day of windward/leewards off Largs appears to have been dropped. Start is at 9.30 off Kip.
---
Whit? Nae Windaes?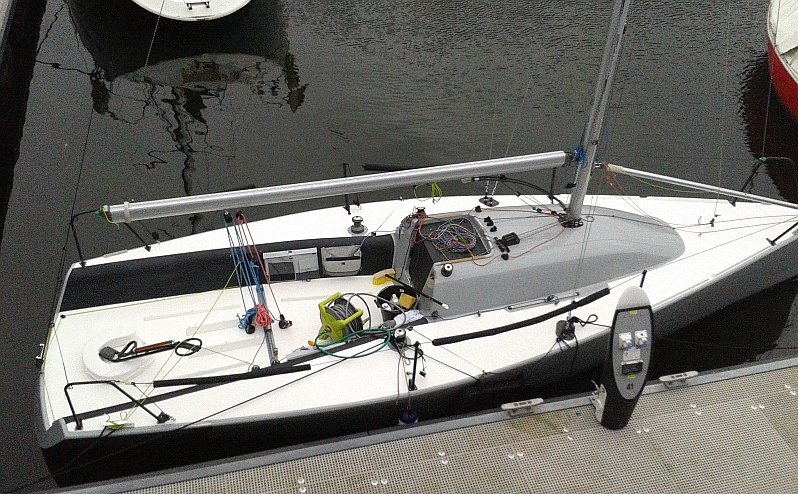 Craig Latimer's latest Wildebeest IV looking very tidy and without a trace of external green paint. One set of spreaders and one set jumpers which used to be quite IRC unfriendly but maybe not now. Should be fun to sail.
---
Kip Regatta - 10/11th May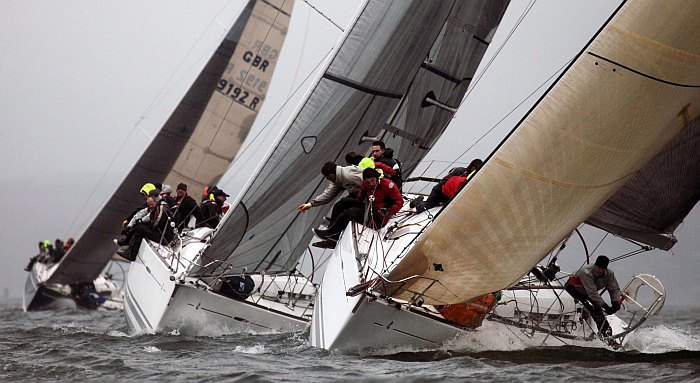 Oo-er missus. Maybe we should ask Simon Limb or Chris Dodgson if the weather will be ok for Kip Regatta. With the foulest weekend weather in months of fairly rubbish weather the cancellation of the Icebreaker turned out to be a very good or at least fortuitous call. Chas was trying to apply antifouling down in Ardrossan while what was clearly 35kts plus howled in the rigging and the paint was flying sideways off the roller. Anyway, Kip Regatta in this 25th year will have far nicer weather than that above. Definitely.
Come and help us celebrate our 25th anniversary……….
Kip Regatta celebrates 25 years of being the "First Major Regatta " of the season this May.
Savills are again the headline sponsor for the 6th year running and Royal Western Yacht Club will, as ever, continue to run the "on water" programme
with Principal race officer Johnny Watson calling the shots.
The Regatta has seen many different boats and classes over the last quarter of a century and this year is no exception.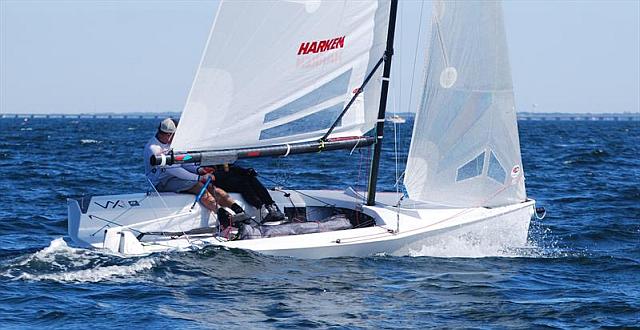 VX1 photo: Y&Y
Three of the new 19ft VX 1 sportboats will be here to test out the waters prior to heading off to Tarbert and Scottish Series. The boats are currently being measured but from previous encounters they are outperforming both the SB20 and the J-70 so some interesting racing there when they come head to head on a Clyde race track.
At least 3 x IRC , 2x CYCA , Sigma 33 OD, Sportsboat and White sail classes are expected, given the current level of entries received.
The Chartroom will take on the "Apres Sail " programme and the BBQ will be in full swing right after racing as usual.
Evening entertainment will be provided, as tradition demands, by the Raggle Taggle Gypies which should help the beer go down.
Café Riva will provide you with that big breakfast to get you through Sunday's racing which will be followed by the "prizegiving" at the Chartroom.
If you have not yet received your Entry Form these are available to download from the Royal western Yacht Club website www.rwyc.org.uk or www.kipmarina.co.uk or simply call Kip on 01475521485 - we can take the details or send out.
Any other info required e-mail dchalmers@kipmarina.co.uk
Conditions like these are what we want - as in 2010 - don't miss it - even if you sail out of Largs.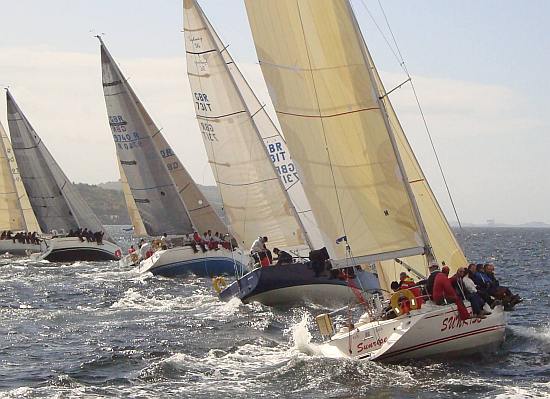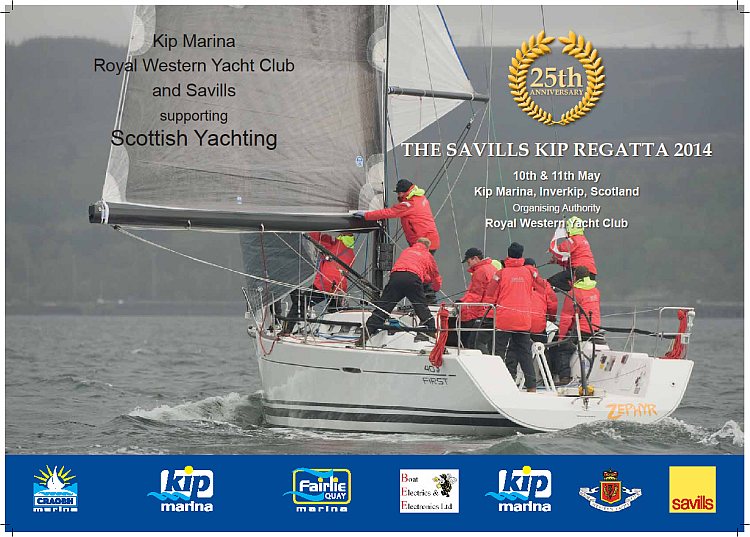 ---
The Agonies of Antifouling
Here's a rare 'selfie' taken in Ardrossan. The wind had blown over the stepladder for the nth time and I was about to give up despite 5 layers of clothing under the overalls. Those are my antifouling overalls and are really more like wearing a coat of paint although there is masonry paint in there too.How does he get paint on his rear end? I was wondering that too.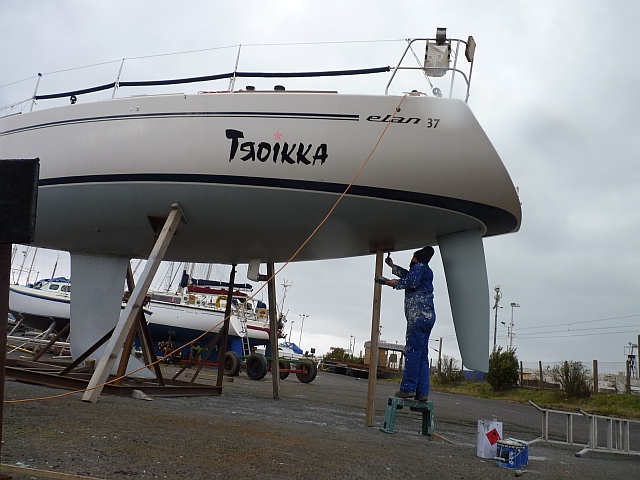 What I wish to point out is a warning about masking tape. This year I puchased a roll of blue 'professional' masking tape in B&Q. Normally I use the green stuff but the marina shop was shut and I wanted to get masking. The 25m roll cost over 5 quid, looked and felt ok and I was confident it would do the job. Wrong! After 2 nights it was removed in bits to leave multiple gobs of tape adhesive which took HOURS and a lot of acetone to remove. So avoid B&Q blue tape. It's rubbish - as are their mini roller sets - the tray of which was of such flimsy plastic that it split within the first hour. Diall probably means do all the customers.Is ALL blue masking tape rubbish? I dunno but would be wary.
However, plaudits to the Musto repair service - definitely worth sending in those tatty Mustos.
---
Icebreaker Regatta canned for 2014
Unfortunately due to insufficient interest, this coaching regatta which has always been highly regarded by all who have taken part, has been cancelled this year and this is particularly disappointing in a year when Scotland is fielding a Commodore's Cup team. As can be imagined, considerable effort and expense goes into staging the event and there must come a point where it is not viable. However the committee are hopeful that it can be revived next year and they are looking for feedback. Please read the official press release below:
During an Icebreaker Regatta meeting this afternoon, the organising committee decided, with a heavy heart, to cancel this year's event. The entry level was insufficient to sustain a viable regatta. In addition sponsors and supporting businesses require a reasonable time to reallocate the resources they have set aside for alternative uses. Coaches organised from the Solent, mark-laying teams, sponsors, restaurant facilities and of course the race committee members all deserve a reasonable notice.
We realise that there are many disappointed competitors who were looking forward to this intensive training regatta but we also hope that they shall understand and continue to support us in 2015.
The committee have put in a lot of hard work and share the disappointment but we are all absolutely committed to putting the same effort into the 2015 regatta.
We would appreciate any feedback that might help us to grow this event which we have great faith in continuing and a strong desire to maintain the standard and enjoyment of racing in Scotland.
The Clyde Marina Icebreaker Regatta Committee
Icebreaker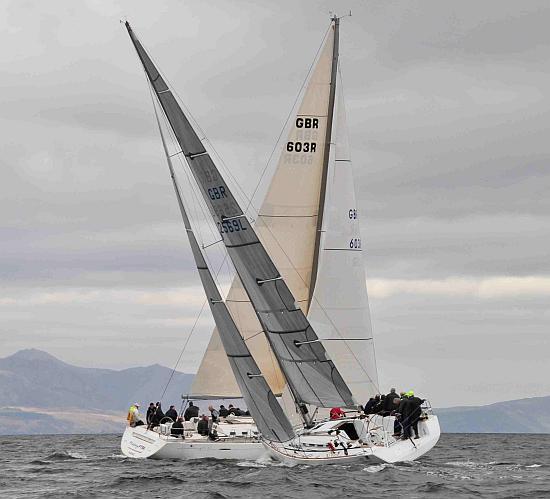 Get your entry in.
NOR here
and
Entry form here
.
Don't miss this event. What kind of pussy thinks Ardrossan is too far away for some great coaching?
---
Brewin Dolphin Commodore's Cup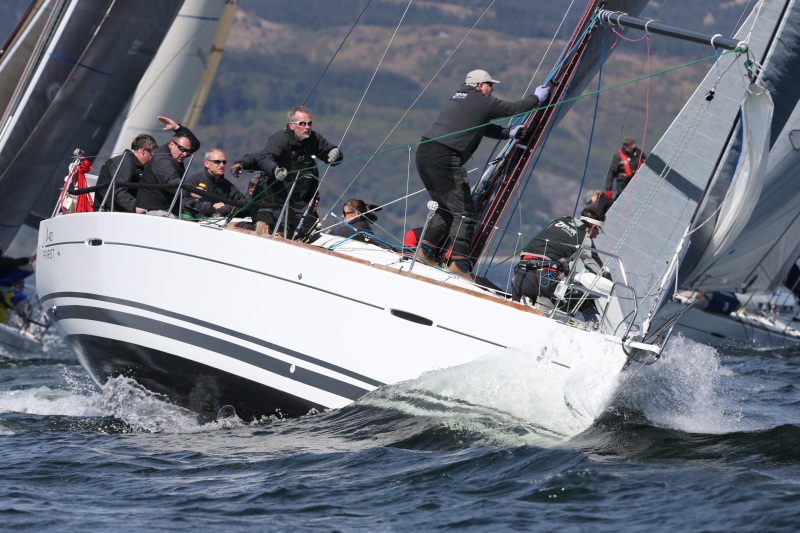 photo: Marc Turner
Used to be the BDSS but now the money's on BDCC. What's more Scotland have a team. And one that looks promising. This is the official press release:
Team Scotland confirms entry for Brewin Dolphin Commodores' Cup 2014

One of the first complete Scottish teams has emerged as the first GBR entry for the 2014 Brewin Dolphin Commodores Cup hosted by The Royal Ocean Racing Club (RORC) at Cowes this July.

The Clyde based team consists of a group of committed owners who have been working throughout the winter in creating a team with a broad experience, that includes some of the leading professionals in recent event history.

Eala of Rhu, owned by Jamie McGarry and Colin Moore of the Royal Northern & Clyde have recruited Kevin Sproul, who sailed Keronimo to victory for GBR Red in the 2012 event. He joins Jon Fitzgerald in running the Swan 45 in the international IRC Regatta.

"It's fantastic to be involved with a prepared and organised Clyde based team this early in the year. It bodes well for a successful campaign." comments Kevin Sproul.

The First 40, Zephyr from Royal Gourock YC has competed successfully over the past couple of seasons with owner Steve Cowie, both in Ireland in 2013 and winning their Class at Cowes in 2012. The choice of pro is natural one as Ian Budgen started sailing at RGYC in Pipers before building a strong reputation in the sailing world from the TP52 circuit, the Volvo Ocean Race and the Americas Cup.

Completing the three-boat team is the Corby 37, fomerly Impetuous, a competitive IRC boat which is new to the Clyde Cruising Club owners Rod Stuart, Bill Ram and Donald MacKenzie. Rod Stuart who competed with EOS, an Elan 410, has enjoyed some good offshore results including 2nd in class in the 2013 Middle Sea Race. Sailmaker and experienced IRC campaigner John Highcock takes on the professional role onboard.

RYAS Chief Operating Officer James Stuart comments, "We are delighted to be in a position to support an entry from Scotland for this pinnacle IRC racing event. Events of this nature offer a great opportunity to see some of Scotland's best sailors competing on an international stage."
Team Scotland's campaign will start their training on the Clyde, including the 40th anniversary of the Scottish Series. The boats then head to the Solent to train and compete in the RORC Offshore races, the IRC National Championships and ultimately the Brewin Dolphin Commodores Cup from the 19th to the 26th of July.

Selectors have reminded teams that the deadline of the entry to the rest of the GBR selections closes on March 28th.

Chris Mason of the Selection group added, "We are delighted to have an early commitment from a Scottish team and it shows a real passion for the event that owners and crews are working together at this early stage. The RYA are just about to enter the final week looking for entries to the selection trials and we hope to find the same enthusiasm coming forward from the rest of the country."

Latest news on the Brewin Dolphin Commodores' Cup can be found at commodorescup.rorc.org

The Notice of Race can be viewed and downloaded from the website or contact the RORC Race Office, racing@rorc.org


---
New season in sight - nearly
Here we are again - starting off with the Icebreaker - an excellent event wholly underappreciated by those who stay away.
The Clyde offers no better way to get your racing back in gear after the winter layoff.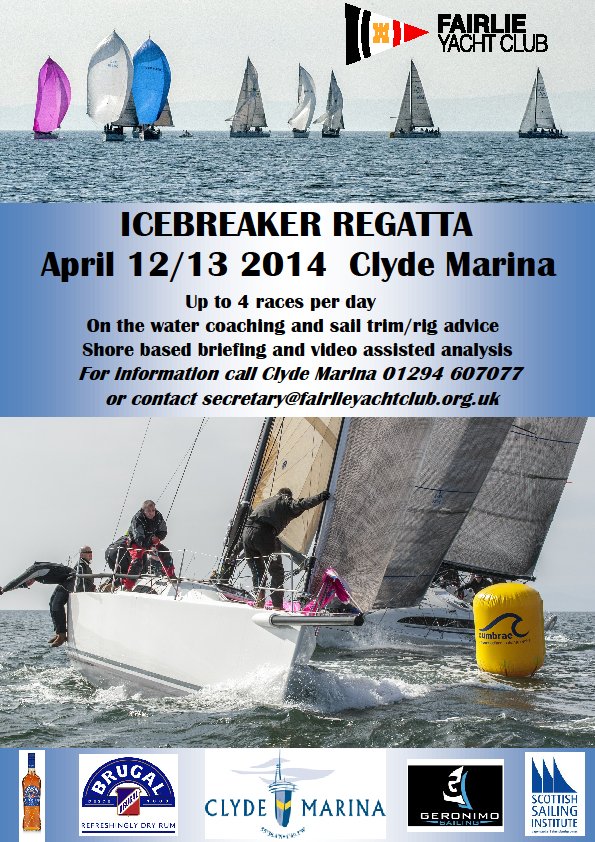 ---
2014
Well here we are back again after a long absence and looking forward to sailing in 2014. Remarkably, what with the Commonwealth Games there are some date changes and particularly discombobulating is West Highland Yachting Week coming the week before the Glasgow Fair weekend.
There is plenty of interest coming up, not least the Scottish Series which has evolved, as is its way, into something a wee bit different from formula of the recent Bell Lawrie years. Given that the series celebrates its 40th anniversary in 2014, evolution is both inevitable and welcome and we have every expectation that the 2014 iteration will be a lot of fun. We are waiting with - substitute your own cliche here- to hear the route of the Clyde Challenger Gourock -Tarbert race. The mention of 'Islands of the Clyde' in the NOR has sparked anxiety that it might be through the Kyles of Bute and an early allaying of that fear would be most welcome.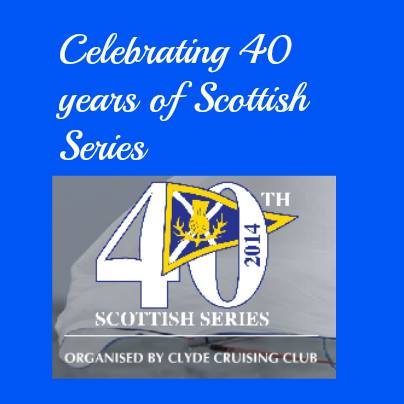 Although it might mean good business for the yacht repairers if Woodfarm Rock claimed a few more victims as would be likely.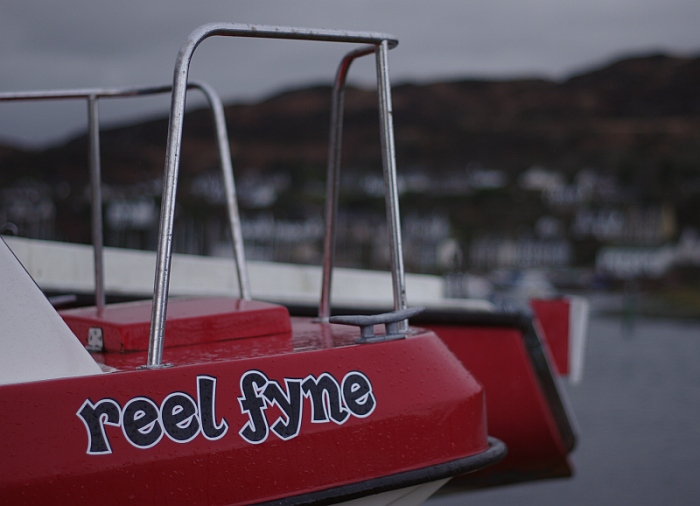 Tarbert was looking pretty dreich the other day. Sandbags across harbourside doors tell the tale of recent storm surge flooding with much flooding of shops, swans swimming where they're not welcome and some businesses with low lying premises having to be pumped out. Hopefully the rains will have ceased by May and the village back to usual form although you could never call it 'dry' when the Scottish Series is in.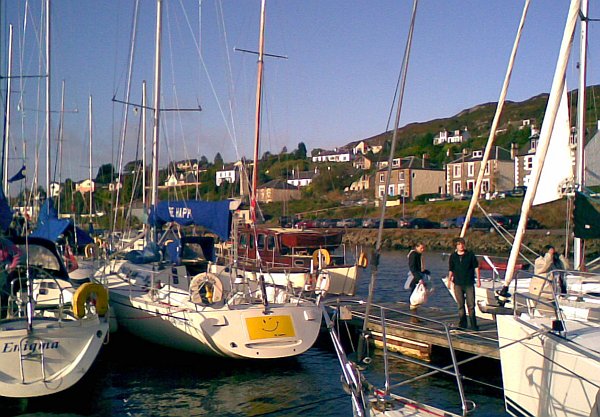 If sailing on huge mass participation ships is your thing then Drum and the Clyde Challenger will be competing at the Scottish Series in Loch Fyne, from the 23rd - 26th of May. If you fancy participating, you can enquire here:

http://

www.arnoldclarkdrum.com/

enquiry/
I'm sure the mast inversion in the photo is photographic distortion!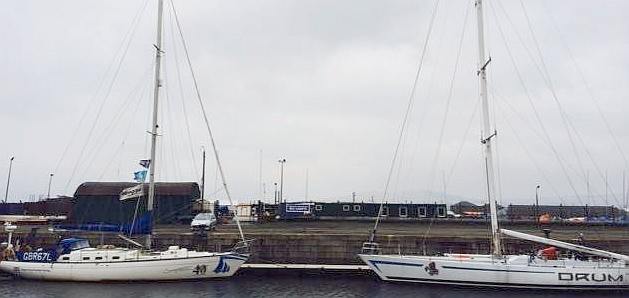 ---
More Etchells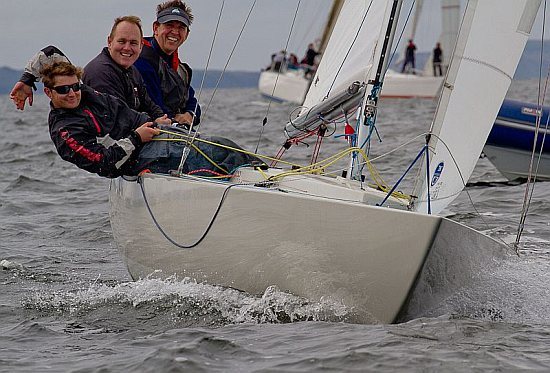 Geoffrey Howison writes:
T

he Etchells Fleet at Gourock continues to grow with the confirmation that Mark Allen and Matt West have bought Gelert from Dublin. This is a Petticrow built boat Number 1113 so a good and welcome addition to the fleet. This brings us to eleven boats at RGYC so we can look forward to some good racing this season.
Ian Marshall is the Racing Secretary at RGYC and determined to give us better racing where at all possible. I attended the meeting on Monday and progress is being made:
Proposals to lay the Temporary mark towards Kirn (clear of the channels) every week. This will give an choice of an additional 10 courses
Use of temporary mark as outer end of start line and use of inner distance mark to give smaller line
Race officer seminar/refresher to encourage good use of courses ie to provide a good windward leg at some point during the race

John Douglas and Mudhook Yacht Club have invited the Etchells to form a class at the Old Pultney Regatta on 7/8 June. This is a great opportunity to have some proper race course organisation for us and I suggest we consider that the Scottish Etchells Championships. John has been speaking with Kip re supporting us for berthing, tows, hospitality etc. Maximum participation would be great fun and good for the class
There are a good number of regattas that will hopefully see the Etchells there. Ashton Regatta 31st May, Cove Regatta 14/15 June. Also there are a couple of dates where we can add an Etchells Day. That would be; 5 and/or 6th July. Sun 10th August.



I still know of a couple of boats at decent prices and a good push to get them here would help the class considerably so if anyone is interested please let me know. David Heritage has 4 new boats in construction for this season so the class is reviving in the South too.
It's time to get sanding, painting, polishing and planning on a good season so let me know your views in advance of when we can hopefully meet early in March. Please pass this email on to anyone that might be interested or let me have their email and I'll include them in the future
.
This all sounds good. I had hoped to join in but alas not.
---
IRC and handicaps
In 2014 the IRC rating system celebrates its 30 year anniversary from its beginnings as the Channel Handicap System, devised to replace the failing International Offshore Rule. Although the numbers of UK IRC rated boats is down somewhat in line with the general decline in racing, IRC continues to gain traction worldwide and remains the most equitable and flexible system outside of one design. We hear that CCC stalwart Ian MacDonald has been 'promoted' from IRC Scottish rep to chairman of the UK IRC committee.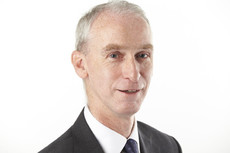 Ian has been involved with CHS then IRC from fairly early days and during that time has applied his legal brain to solving successfully the problem of being able to win two classes while just taking part in the one race. Naturally Ian is a supporter of dual scoring systems but the bottom line, as IRC well recognises, is in providing systems which enourage participation and dual scoring is a tool in that process. To quote technical director Mike Urwin, 'IRC isn't for everybody. The owner who only ever competes in his local club's races may be entirely happy racing under some kid of performance handicap.'
Speaking of handicap systems, around this time last year there was a lot of discussion about the new 'National Handicap Cruiser' system being promulgated by the RYA as a replacement for PY in cruising yachts. It seems to have gone rather quiet on that front and there is nothing much new from the RYA on the subject although the controversial base handicap list appears to have been updated. Various clubs south of the border have been trying it out in place of PY but as far as I can make out, the only significant potential user in Scotland, the ForthYacht Clubs Association has been sticking with their own performance handicap system thus far, having taken the view that for 2013, the NHC system was insufficiently mature for their purpose. On the Clyde, with the benefit of the long established and well accepted CYCA system, PY has never figured to any extent outwith the dinghy fleets and over here for the most part, there seems little interest in a performance system such as NHC. If anyone wishes to take issue with any of these statements or contribute more information I will be glad to hear from them.
---
Upwind Animal - and what a looker
Peter Wright, FYC's irrepressible Race Officer and Terrible Jokemeister sent in these beautiful pictures of the IOR heyday. Pete writes:
'I
was in a syndicate of 7 that owned Moonchaser (ex-Marionette 79, Holland
himself) and she was an upwind animal, downwind dog. Downwind she built a stern
wave that could have easily graced a Japanese dinner service and our party piece was
throwing applecores onto it that would still be there an hour later.
'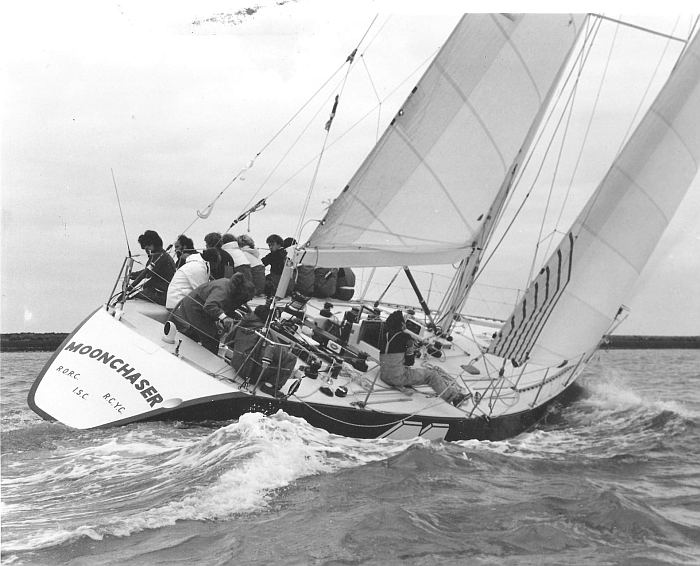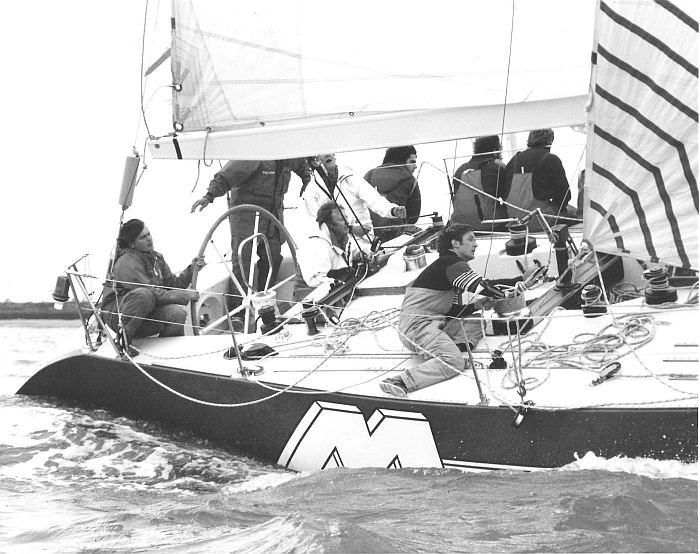 I'm unable to identify Pete (or any of the others) in any of these photos but if anyone can do let us know - Just look at that nightmare IOR style cockpit. The Ron Holland transom is a thing of beauty but racing her at 10/10ths must have been hard hard work. Any more stories /pics from that era are most welcome.
---
Downwind Dog!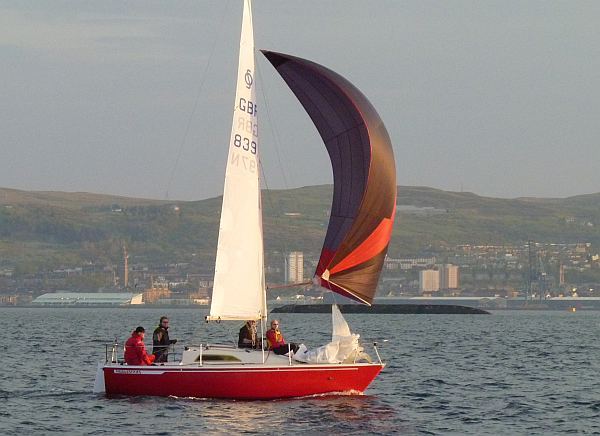 No I don't really mean it. Loadsa fun for so little dosh and the Clyde fleet seems to be recovering well. They now have an active Facebook page - look for ' West Coast snottas' . There seems to be a fair turnover in boats recently and I'm even hoping to get out sailing in one just maybe. I hope they get a good turnout at the Scottish. We need more back to basics sailing. The London Boat Show with all those glittering twin wheel jobs and stratospheric price tickets is on another galaxy from the grass roots.
PS - I know the 'Email Chas' link isn't working. I'll try to remember how to fix it but I last looked at that well over 10 years ago.
---