New season in sight - nearly
Here we are again - starting off with the Icebreaker - an excellent event wholly underappreciated by those who stay away.
The Clyde offers no better way to get your racing back in gear after the winter layoff.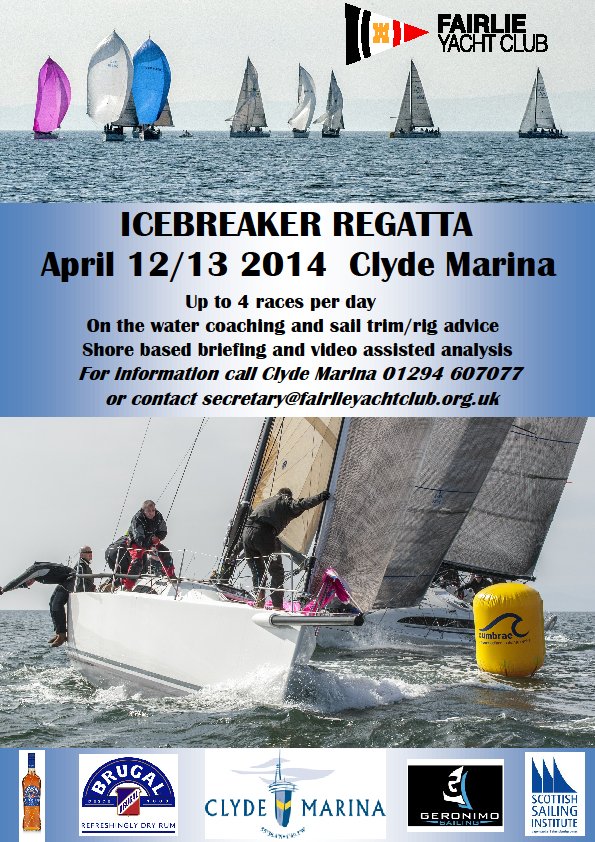 ---
2014
Well here we are back again after a long absence and looking forward to sailing in 2014. Remarkably, what with the Commonwealth Games there are some date changes and particularly discombobulating is West Highland Yachting Week coming the week before the Glasgow Fair weekend.
There is plenty of interest coming up, not least the Scottish Series which has evolved, as is its way, into something a wee bit different from formula of the recent Bell Lawrie years. Given that the series celebrates its 40th anniversary in 2014, evolution is both inevitable and welcome and we have every expectation that the 2014 iteration will be a lot of fun. We are waiting with - substitute your own cliche here- to hear the route of the Clyde Challenger Gourock -Tarbert race. The mention of 'Islands of the Clyde' in the NOR has sparked anxiety that it might be through the Kyles of Bute and an early allaying of that fear would be most welcome.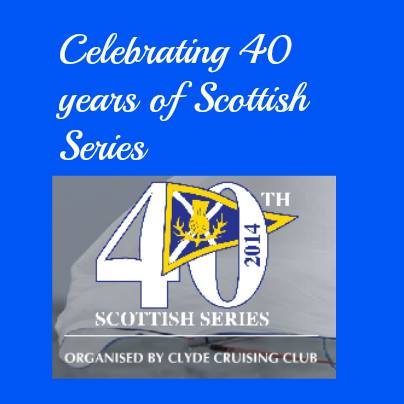 Although it might mean good business for the yacht repairers if Woodfarm Rock claimed a few more victims as would be likely.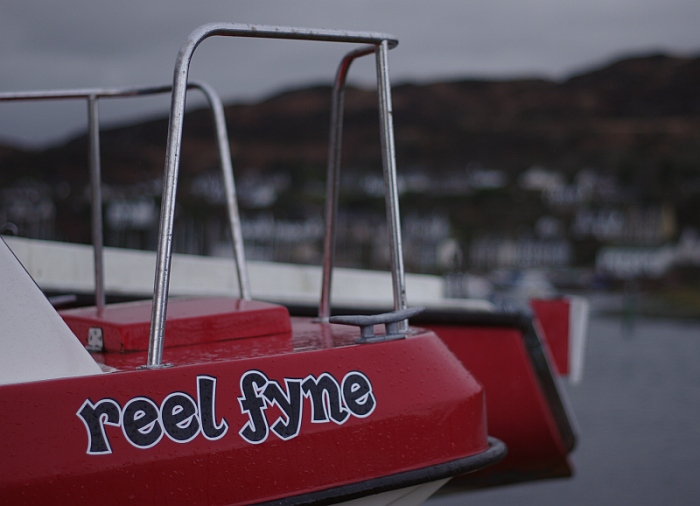 Tarbert was looking pretty dreich the other day. Sandbags across harbourside doors tell the tale of recent storm surge flooding with much flooding of shops, swans swimming where they're not welcome and some businesses with low lying premises having to be pumped out. Hopefully the rains will have ceased by May and the village back to usual form although you could never call it 'dry' when the Scottish Series is in.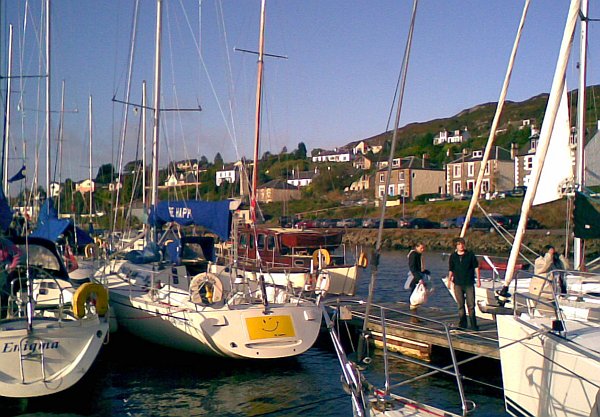 If sailing on huge mass participation ships is your thing then Drum and the Clyde Challenger will be competing at the Scottish Series in Loch Fyne, from the 23rd - 26th of May. If you fancy participating, you can enquire here:

http://

www.arnoldclarkdrum.com/

enquiry/
I'm sure the mast inversion in the photo is photographic distortion!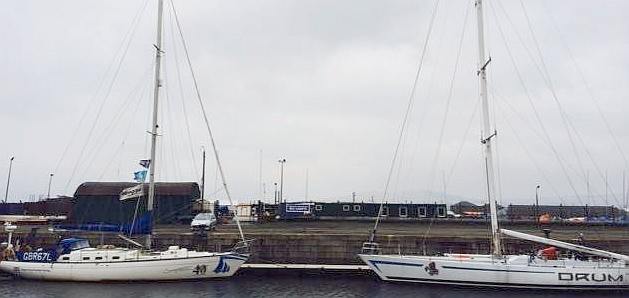 ---
More Etchells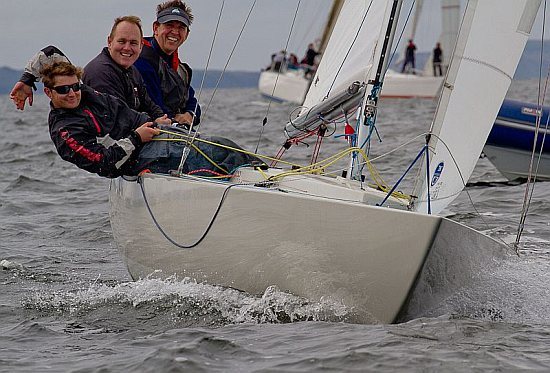 Geoffrey Howison writes:
T

he Etchells Fleet at Gourock continues to grow with the confirmation that Mark Allen and Matt West have bought Gelert from Dublin. This is a Petticrow built boat Number 1113 so a good and welcome addition to the fleet. This brings us to eleven boats at RGYC so we can look forward to some good racing this season.
Ian Marshall is the Racing Secretary at RGYC and determined to give us better racing where at all possible. I attended the meeting on Monday and progress is being made:
Proposals to lay the Temporary mark towards Kirn (clear of the channels) every week. This will give an choice of an additional 10 courses
Use of temporary mark as outer end of start line and use of inner distance mark to give smaller line
Race officer seminar/refresher to encourage good use of courses ie to provide a good windward leg at some point during the race

John Douglas and Mudhook Yacht Club have invited the Etchells to form a class at the Old Pultney Regatta on 7/8 June. This is a great opportunity to have some proper race course organisation for us and I suggest we consider that the Scottish Etchells Championships. John has been speaking with Kip re supporting us for berthing, tows, hospitality etc. Maximum participation would be great fun and good for the class
There are a good number of regattas that will hopefully see the Etchells there. Ashton Regatta 31st May, Cove Regatta 14/15 June. Also there are a couple of dates where we can add an Etchells Day. That would be; 5 and/or 6th July. Sun 10th August.



I still know of a couple of boats at decent prices and a good push to get them here would help the class considerably so if anyone is interested please let me know. David Heritage has 4 new boats in construction for this season so the class is reviving in the South too.
It's time to get sanding, painting, polishing and planning on a good season so let me know your views in advance of when we can hopefully meet early in March. Please pass this email on to anyone that might be interested or let me have their email and I'll include them in the future
.
This all sounds good. I had hoped to join in but alas not.
---
IRC and handicaps
In 2014 the IRC rating system celebrates its 30 year anniversary from its beginnings as the Channel Handicap System, devised to replace the failing International Offshore Rule. Although the numbers of UK IRC rated boats is down somewhat in line with the general decline in racing, IRC continues to gain traction worldwide and remains the most equitable and flexible system outside of one design. We hear that CCC stalwart Ian MacDonald has been 'promoted' from IRC Scottish rep to chairman of the UK IRC committee.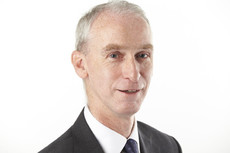 Ian has been involved with CHS then IRC from fairly early days and during that time has applied his legal brain to solving successfully the problem of being able to win two classes while just taking part in the one race. Naturally Ian is a supporter of dual scoring systems but the bottom line, as IRC well recognises, is in providing systems which enourage participation and dual scoring is a tool in that process. To quote technical director Mike Urwin, 'IRC isn't for everybody. The owner who only ever competes in his local club's races may be entirely happy racing under some kid of performance handicap.'
Speaking of handicap systems, around this time last year there was a lot of discussion about the new 'National Handicap Cruiser' system being promulgated by the RYA as a replacement for PY in cruising yachts. It seems to have gone rather quiet on that front and there is nothing much new from the RYA on the subject although the controversial base handicap list appears to have been updated. Various clubs south of the border have been trying it out in place of PY but as far as I can make out, the only significant potential user in Scotland, the ForthYacht Clubs Association has been sticking with their own performance handicap system thus far, having taken the view that for 2013, the NHC system was insufficiently mature for their purpose. On the Clyde, with the benefit of the long established and well accepted CYCA system, PY has never figured to any extent outwith the dinghy fleets and over here for the most part, there seems little interest in a performance system such as NHC. If anyone wishes to take issue with any of these statements or contribute more information I will be glad to hear from them.
---
Upwind Animal - and what a looker
Peter Wright, FYC's irrepressible Race Officer and Terrible Jokemeister sent in these beautiful pictures of the IOR heyday. Pete writes:
'I
was in a syndicate of 7 that owned Moonchaser (ex-Marionette 79, Holland
himself) and she was an upwind animal, downwind dog. Downwind she built a stern
wave that could have easily graced a Japanese dinner service and our party piece was
throwing applecores onto it that would still be there an hour later.
'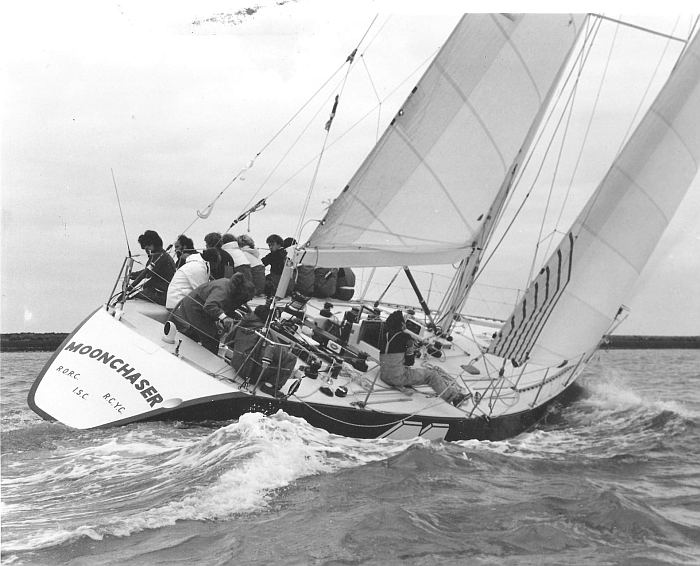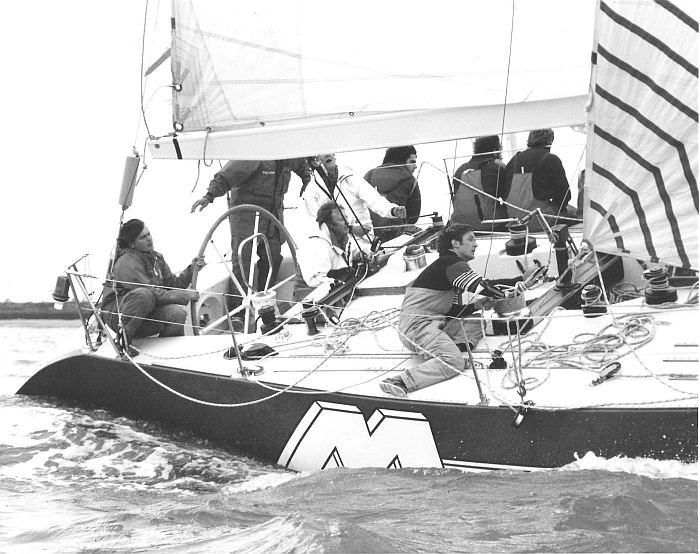 I'm unable to identify Pete (or any of the others) in any of these photos but if anyone can do let us know - Just look at that nightmare IOR style cockpit. The Ron Holland transom is a thing of beauty but racing her at 10/10ths must have been hard hard work. Any more stories /pics from that era are most welcome.
---
Downwind Dog!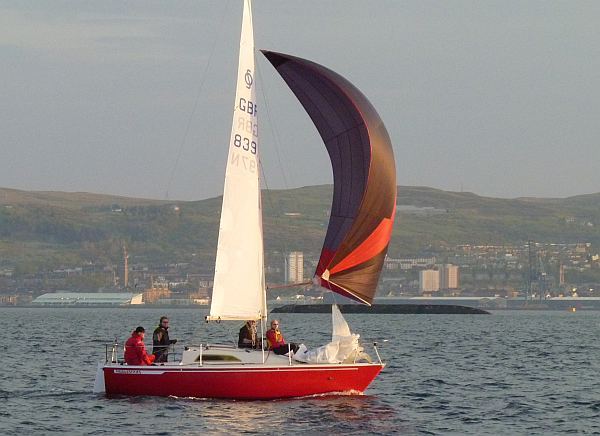 No I don't really mean it. Loadsa fun for so little dosh and the Clyde fleet seems to be recovering well. They now have an active Facebook page - look for ' West Coast snottas' . There seems to be a fair turnover in boats recently and I'm even hoping to get out sailing in one just maybe. I hope they get a good turnout at the Scottish. We need more back to basics sailing. The London Boat Show with all those glittering twin wheel jobs and stratospheric price tickets is on another galaxy from the grass roots.
PS - I know the 'Email Chas' link isn't working. I'll try to remember how to fix it but I last looked at that well over 10 years ago.
---