CCC season starts with Bute Race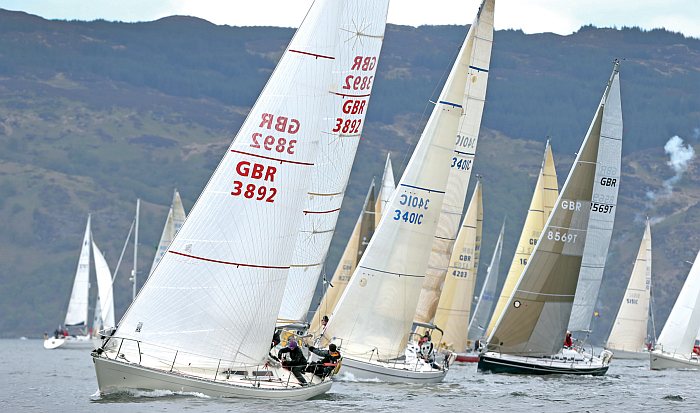 I
Inverkip to Largs circumnavigating Bute on 26th April. A good sail to get the cobwebs blown away since there have been no earlier opportunities to do that - in a racing mode at least. The previous notion of a second day of windward/leewards off Largs appears to have been dropped. Start is at 9.30 off Kip.
---
Whit? Nae Windaes?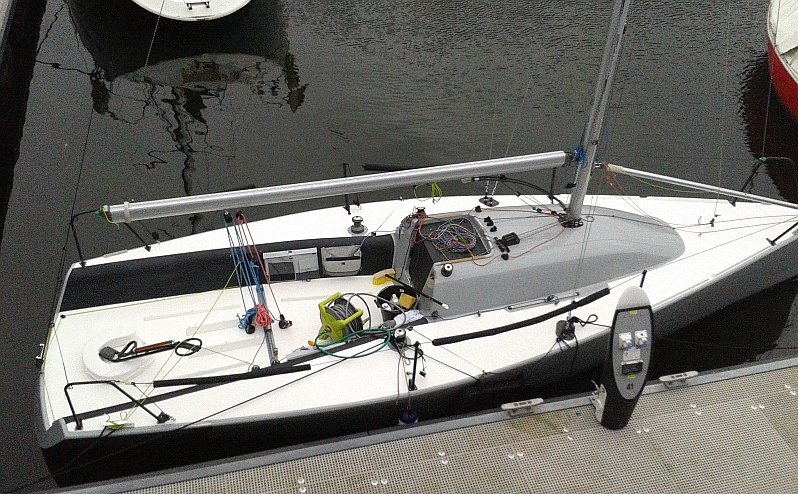 Craig Latimer's latest Wildebeest IV looking very tidy and without a trace of external green paint. One set of spreaders and one set jumpers which used to be quite IRC unfriendly but maybe not now. Should be fun to sail.
---
Kip Regatta - 10/11th May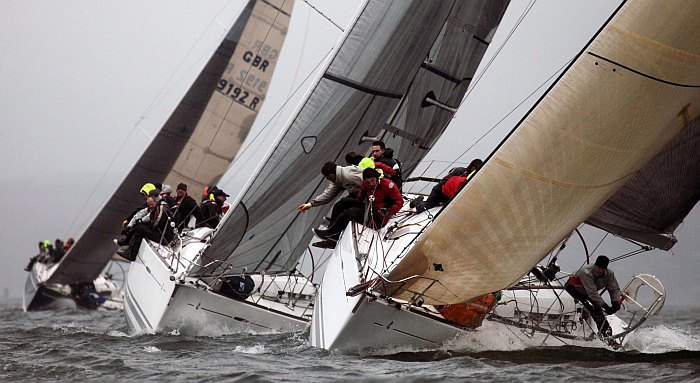 Oo-er missus. Maybe we should ask Simon Limb or Chris Dodgson if the weather will be ok for Kip Regatta. With the foulest weekend weather in months of fairly rubbish weather the cancellation of the Icebreaker turned out to be a very good or at least fortuitous call. Chas was trying to apply antifouling down in Ardrossan while what was clearly 35kts plus howled in the rigging and the paint was flying sideways off the roller. Anyway, Kip Regatta in this 25th year will have far nicer weather than that above. Definitely.
Come and help us celebrate our 25th anniversary……….
Kip Regatta celebrates 25 years of being the "First Major Regatta " of the season this May.
Savills are again the headline sponsor for the 6th year running and Royal Western Yacht Club will, as ever, continue to run the "on water" programme
with Principal race officer Johnny Watson calling the shots.
The Regatta has seen many different boats and classes over the last quarter of a century and this year is no exception.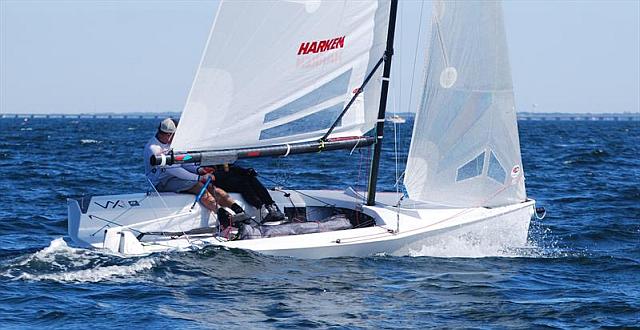 VX1 photo: Y&Y
Three of the new 19ft VX 1 sportboats will be here to test out the waters prior to heading off to Tarbert and Scottish Series. The boats are currently being measured but from previous encounters they are outperforming both the SB20 and the J-70 so some interesting racing there when they come head to head on a Clyde race track.
At least 3 x IRC , 2x CYCA , Sigma 33 OD, Sportsboat and White sail classes are expected, given the current level of entries received.
The Chartroom will take on the "Apres Sail " programme and the BBQ will be in full swing right after racing as usual.
Evening entertainment will be provided, as tradition demands, by the Raggle Taggle Gypies which should help the beer go down.
Café Riva will provide you with that big breakfast to get you through Sunday's racing which will be followed by the "prizegiving" at the Chartroom.
If you have not yet received your Entry Form these are available to download from the Royal western Yacht Club website www.rwyc.org.uk or www.kipmarina.co.uk or simply call Kip on 01475521485 - we can take the details or send out.
Any other info required e-mail dchalmers@kipmarina.co.uk
Conditions like these are what we want - as in 2010 - don't miss it - even if you sail out of Largs.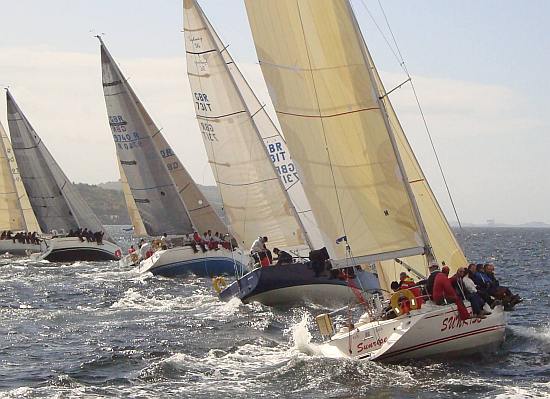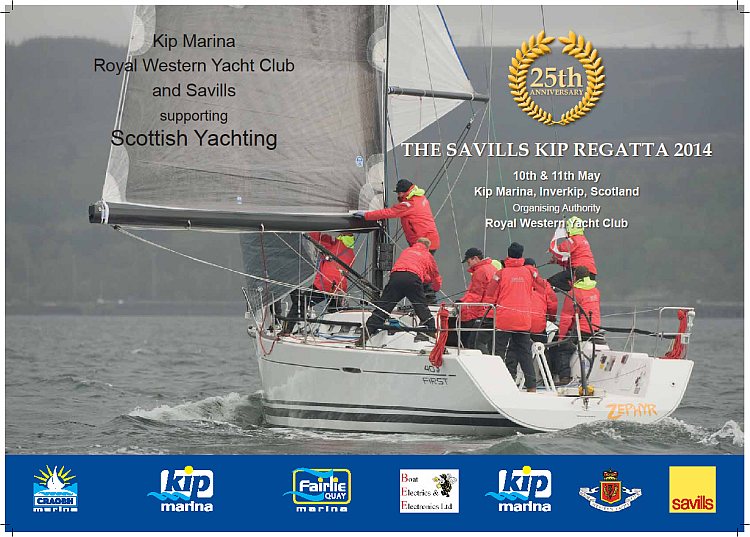 ---
The Agonies of Antifouling
Here's a rare 'selfie' taken in Ardrossan. The wind had blown over the stepladder for the nth time and I was about to give up despite 5 layers of clothing under the overalls. Those are my antifouling overalls and are really more like wearing a coat of paint although there is masonry paint in there too.How does he get paint on his rear end? I was wondering that too.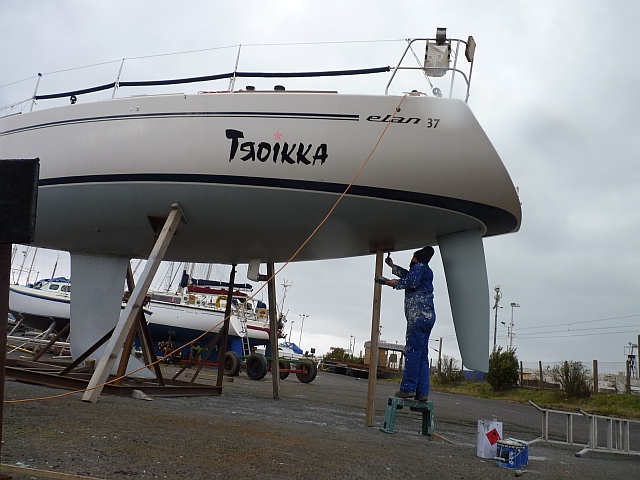 What I wish to point out is a warning about masking tape. This year I puchased a roll of blue 'professional' masking tape in B&Q. Normally I use the green stuff but the marina shop was shut and I wanted to get masking. The 25m roll cost over 5 quid, looked and felt ok and I was confident it would do the job. Wrong! After 2 nights it was removed in bits to leave multiple gobs of tape adhesive which took HOURS and a lot of acetone to remove. So avoid B&Q blue tape. It's rubbish - as are their mini roller sets - the tray of which was of such flimsy plastic that it split within the first hour. Diall probably means do all the customers.Is ALL blue masking tape rubbish? I dunno but would be wary.
However, plaudits to the Musto repair service - definitely worth sending in those tatty Mustos.
---
Icebreaker Regatta canned for 2014
Unfortunately due to insufficient interest, this coaching regatta which has always been highly regarded by all who have taken part, has been cancelled this year and this is particularly disappointing in a year when Scotland is fielding a Commodore's Cup team. As can be imagined, considerable effort and expense goes into staging the event and there must come a point where it is not viable. However the committee are hopeful that it can be revived next year and they are looking for feedback. Please read the official press release below:
During an Icebreaker Regatta meeting this afternoon, the organising committee decided, with a heavy heart, to cancel this year's event. The entry level was insufficient to sustain a viable regatta. In addition sponsors and supporting businesses require a reasonable time to reallocate the resources they have set aside for alternative uses. Coaches organised from the Solent, mark-laying teams, sponsors, restaurant facilities and of course the race committee members all deserve a reasonable notice.
We realise that there are many disappointed competitors who were looking forward to this intensive training regatta but we also hope that they shall understand and continue to support us in 2015.
The committee have put in a lot of hard work and share the disappointment but we are all absolutely committed to putting the same effort into the 2015 regatta.
We would appreciate any feedback that might help us to grow this event which we have great faith in continuing and a strong desire to maintain the standard and enjoyment of racing in Scotland.
The Clyde Marina Icebreaker Regatta Committee
Icebreaker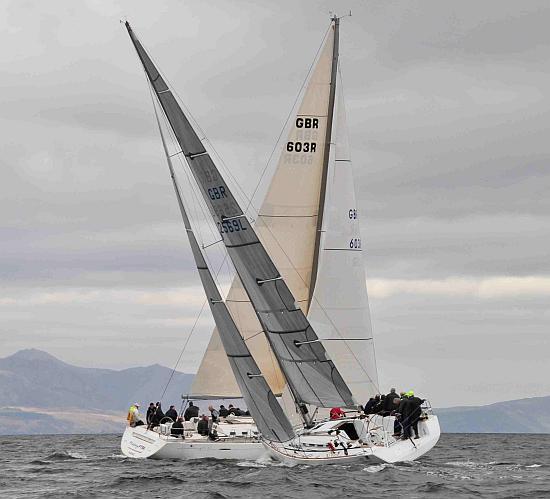 Get your entry in.
NOR here
and
Entry form here
.
Don't miss this event. What kind of pussy thinks Ardrossan is too far away for some great coaching?
---
Brewin Dolphin Commodore's Cup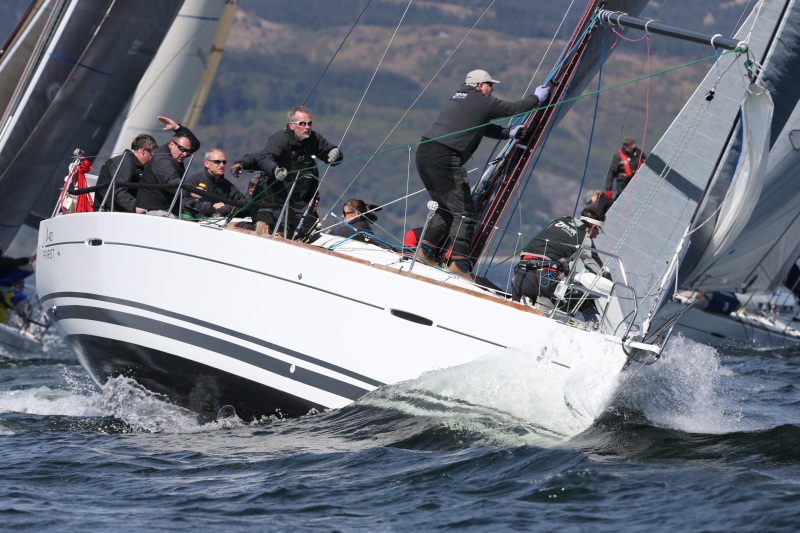 photo: Marc Turner
Used to be the BDSS but now the money's on BDCC. What's more Scotland have a team. And one that looks promising. This is the official press release:
Team Scotland confirms entry for Brewin Dolphin Commodores' Cup 2014

One of the first complete Scottish teams has emerged as the first GBR entry for the 2014 Brewin Dolphin Commodores Cup hosted by The Royal Ocean Racing Club (RORC) at Cowes this July.

The Clyde based team consists of a group of committed owners who have been working throughout the winter in creating a team with a broad experience, that includes some of the leading professionals in recent event history.

Eala of Rhu, owned by Jamie McGarry and Colin Moore of the Royal Northern & Clyde have recruited Kevin Sproul, who sailed Keronimo to victory for GBR Red in the 2012 event. He joins Jon Fitzgerald in running the Swan 45 in the international IRC Regatta.

"It's fantastic to be involved with a prepared and organised Clyde based team this early in the year. It bodes well for a successful campaign." comments Kevin Sproul.

The First 40, Zephyr from Royal Gourock YC has competed successfully over the past couple of seasons with owner Steve Cowie, both in Ireland in 2013 and winning their Class at Cowes in 2012. The choice of pro is natural one as Ian Budgen started sailing at RGYC in Pipers before building a strong reputation in the sailing world from the TP52 circuit, the Volvo Ocean Race and the Americas Cup.

Completing the three-boat team is the Corby 37, fomerly Impetuous, a competitive IRC boat which is new to the Clyde Cruising Club owners Rod Stuart, Bill Ram and Donald MacKenzie.  Rod Stuart who competed with EOS, an Elan 410, has enjoyed some good offshore results including 2nd in class in the 2013 Middle Sea Race. Sailmaker and experienced IRC campaigner John Highcock takes on the professional role onboard.

RYAS Chief Operating Officer James Stuart comments, "We are delighted to be in a position to support an entry from Scotland for this pinnacle IRC racing event. Events of this nature offer a great opportunity to see some of Scotland's best sailors competing on an international stage."
Team Scotland's campaign will start their training on the Clyde, including the 40th anniversary of the Scottish Series. The boats then head to the Solent to train and compete in the RORC Offshore races, the IRC National Championships and ultimately the Brewin Dolphin Commodores Cup from the 19th to the 26th of July.

Selectors have reminded teams that the deadline of the entry to the rest of the GBR selections closes on March 28th.

Chris Mason of the Selection group added, "We are delighted to have an early commitment from a Scottish team and it shows a real passion for the event that owners and crews are working together at this early stage. The RYA are just about to enter the final week looking for entries to the selection trials and we hope to find the same enthusiasm coming forward from the rest of the country."

Latest news on the Brewin Dolphin Commodores' Cup can be found at commodorescup.rorc.org

The Notice of Race can be viewed and downloaded from the website or contact the RORC Race Office, racing@rorc.org


---
New season in sight - nearly
Here we are again - starting off with the Icebreaker - an excellent event wholly underappreciated by those who stay away.
The Clyde offers no better way to get your racing back in gear after the winter layoff.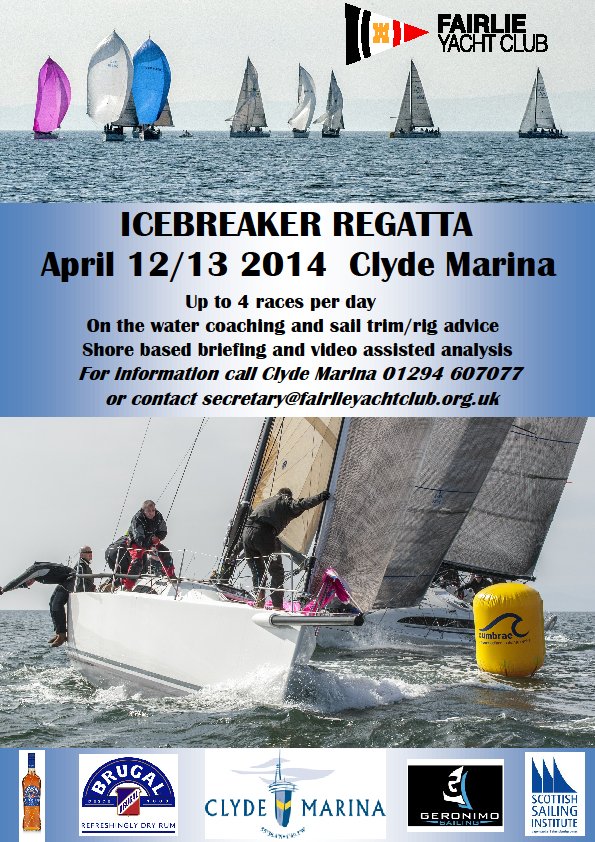 ---
2014
Well here we are back again after a long absence and looking forward to sailing in 2014. Remarkably, what with the Commonwealth Games there are some date changes and particularly discombobulating is West Highland Yachting Week coming the week before the Glasgow Fair weekend.
There is plenty of interest coming up, not least the Scottish Series which has evolved, as is its way, into something a wee bit different from formula of the recent Bell Lawrie years. Given that the series celebrates its 40th anniversary in 2014, evolution is both inevitable and welcome and we have every expectation that the 2014 iteration will be a lot of fun. We are waiting with - substitute your own cliche here- to hear the route of the Clyde Challenger Gourock -Tarbert race. The mention of 'Islands of the Clyde' in the NOR has sparked anxiety that it might be through the Kyles of Bute and an early allaying of that fear would be most welcome.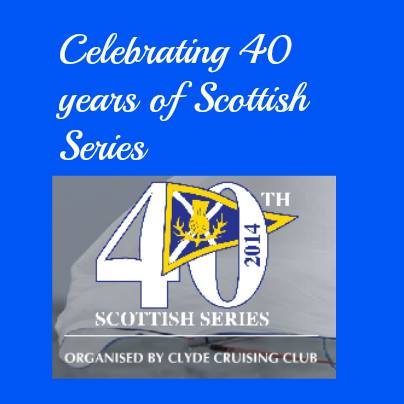 Although it might mean good business for the yacht repairers if Woodfarm Rock claimed a few more victims as would be likely.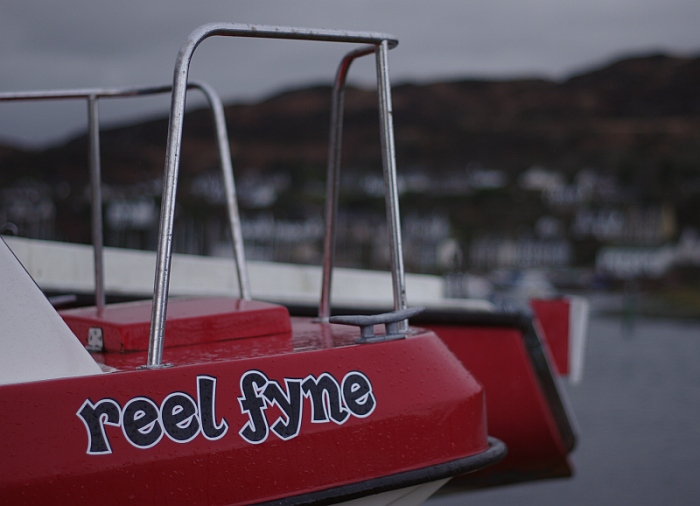 Tarbert was looking pretty dreich the other day. Sandbags across harbourside doors tell the tale of recent storm surge flooding with much flooding of shops, swans swimming where they're not welcome and some businesses with low lying premises having to be pumped out. Hopefully the rains will have ceased by May and the village back to usual form although you could never call it 'dry' when the Scottish Series is in.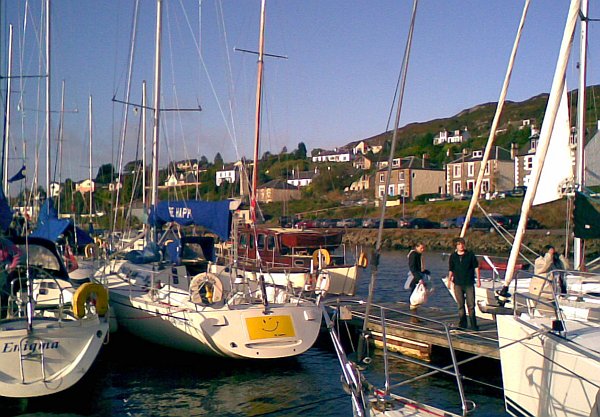 If sailing on huge mass participation ships is your thing then Drum and the Clyde Challenger will be competing at the Scottish Series in Loch Fyne, from the 23rd - 26th of May. If you fancy participating, you can enquire here:

http://

www.arnoldclarkdrum.com/

enquiry/
I'm sure the mast inversion in the photo is photographic distortion!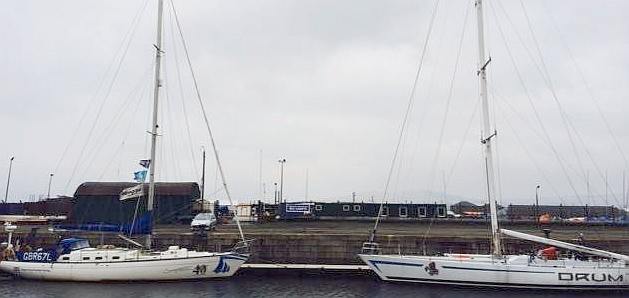 ---
More Etchells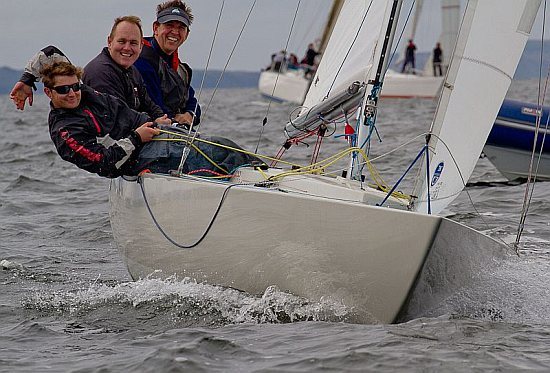 Geoffrey Howison writes:
T

he Etchells Fleet at Gourock continues to grow with the confirmation that Mark Allen and Matt West have bought Gelert from Dublin. This is a Petticrow built boat Number 1113 so a good and welcome addition to the fleet. This brings us to eleven boats at RGYC so we can look forward to some good racing this season.
Ian Marshall is the Racing Secretary at RGYC and determined to give us better racing where at all possible. I attended the meeting on Monday and progress is being made:
Proposals to lay the Temporary mark towards Kirn (clear of the channels) every week. This will give an choice of an additional 10 courses
Use of temporary mark as outer end of start line and use of inner distance mark to give smaller line
Race officer seminar/refresher to encourage good use of courses ie to provide a good windward leg at some point during the race

John Douglas and Mudhook Yacht Club have invited the Etchells to form a class at the Old Pultney Regatta on 7/8 June. This is a great opportunity to have some proper race course organisation for us and I suggest we consider that the Scottish Etchells Championships. John has been speaking with Kip re supporting us for berthing, tows, hospitality etc. Maximum participation would be great fun and good for the class
There are a good number of regattas that will hopefully see the Etchells there. Ashton Regatta 31st May, Cove Regatta 14/15 June. Also there are a couple of dates where we can add an Etchells Day. That would be; 5 and/or 6th July. Sun 10th August.



I still know of a couple of boats at decent prices and a good push to get them here would help the class considerably so if anyone is interested please let me know. David Heritage has 4 new boats in construction for this season so the class is reviving in the South too.
It's time to get sanding, painting, polishing and planning on a good season so let me know your views in advance of when we can hopefully meet early in March. Please pass this email on to anyone that might be interested or let me have their email and I'll include them in the future
.
This all sounds good. I had hoped to join in but alas not.
---
IRC and handicaps
In 2014 the IRC rating system celebrates its 30 year anniversary from its beginnings as the Channel Handicap System, devised to replace the failing International Offshore Rule. Although the numbers of UK IRC rated boats is down somewhat in line with the general decline in racing, IRC continues to gain traction worldwide and remains the most equitable and flexible system outside of one design. We hear that CCC stalwart Ian MacDonald has been 'promoted' from IRC Scottish rep to chairman of the UK IRC committee.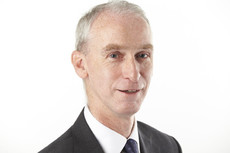 Ian has been involved with CHS then IRC from fairly early days and during that time has applied his legal brain to solving successfully the problem of being able to win two classes while just taking part in the one race. Naturally Ian is a supporter of dual scoring systems but the bottom line, as IRC well recognises, is in providing systems which enourage participation and dual scoring is a tool in that process. To quote technical director Mike Urwin, 'IRC isn't for everybody. The owner who only ever competes in his local club's races may be entirely happy racing under some kid of performance handicap.'
Speaking of handicap systems, around this time last year there was a lot of discussion about the new 'National Handicap Cruiser' system being promulgated by the RYA as a replacement for PY in cruising yachts. It seems to have gone rather quiet on that front and there is nothing much new from the RYA on the subject although the controversial base handicap list appears to have been updated. Various clubs south of the border have been trying it out in place of PY but as far as I can make out, the only significant potential user in Scotland, the ForthYacht Clubs Association has been sticking with their own performance handicap system thus far, having taken the view that for 2013, the NHC system was insufficiently mature for their purpose. On the Clyde, with the benefit of the long established and well accepted CYCA system, PY has never figured to any extent outwith the dinghy fleets and over here for the most part, there seems little interest in a performance system such as NHC. If anyone wishes to take issue with any of these statements or contribute more information I will be glad to hear from them.
---
Upwind Animal - and what a looker
Peter Wright, FYC's irrepressible Race Officer and Terrible Jokemeister sent in these beautiful pictures of the IOR heyday. Pete writes:
'I
was in a syndicate of 7 that owned Moonchaser (ex-Marionette 79, Holland
himself) and she was an upwind animal, downwind dog. Downwind she built a stern
wave that could have easily graced a Japanese dinner service and our party piece was
throwing applecores onto it that would still be there an hour later.
'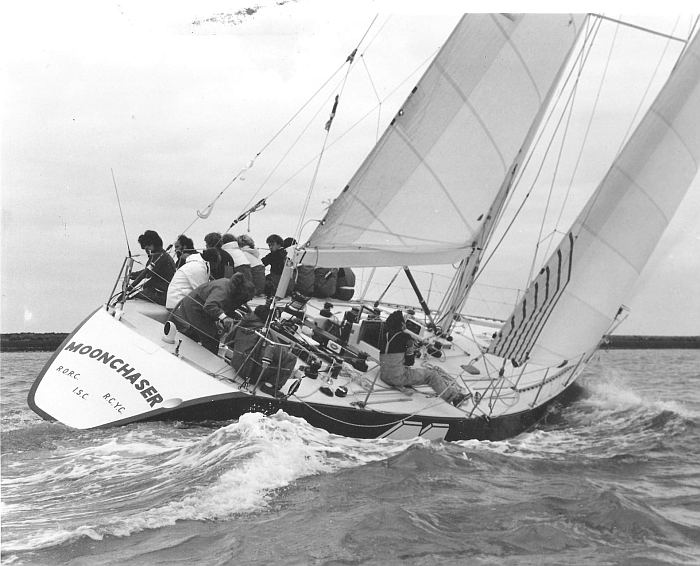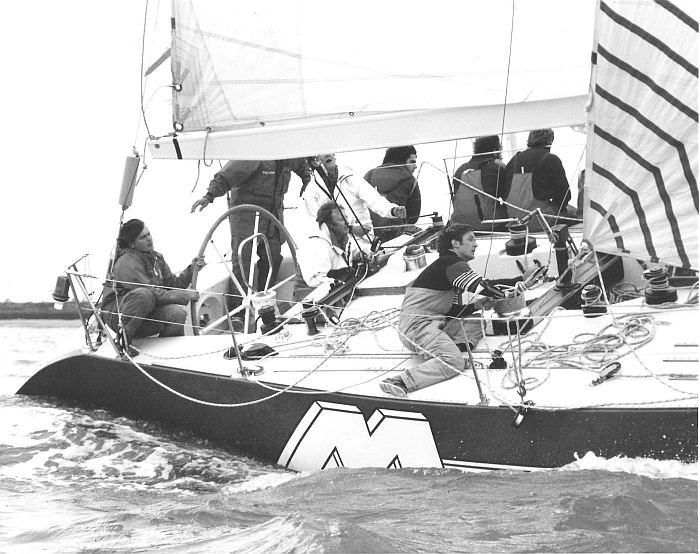 I'm unable to identify Pete (or any of the others) in any of these photos but if anyone can do let us know - Just look at that nightmare IOR style cockpit. The Ron Holland transom is a thing of beauty but racing her at 10/10ths must have been hard hard work. Any more stories /pics from that era are most welcome.
---
Downwind Dog!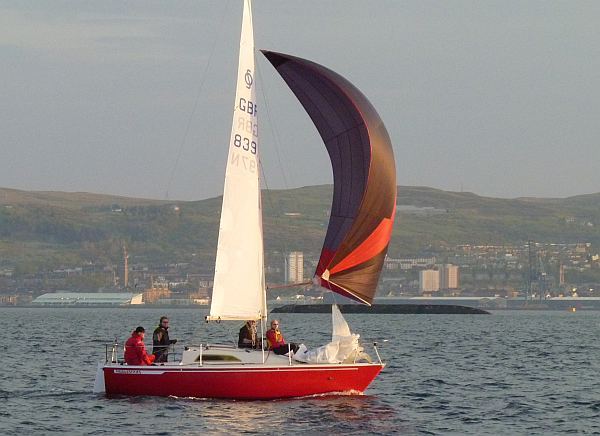 No I don't really mean it. Loadsa fun for so little dosh and the Clyde fleet seems to be recovering well. They now have an active Facebook page - look for ' West Coast snottas' . There seems to be a fair turnover in boats recently and I'm even hoping to get out sailing in one just maybe. I hope they get a good turnout at the Scottish. We need more back to basics sailing. The London Boat Show with all those glittering twin wheel jobs and stratospheric price tickets is on another galaxy from the grass roots.
PS - I know the 'Email Chas' link isn't working. I'll try to remember how to fix it but I last looked at that well over 10 years ago.
---